VietNamNet Bridge - Made-in-Vietnam welding machines created by two Vietnamese engineers will appear in the market in the near future.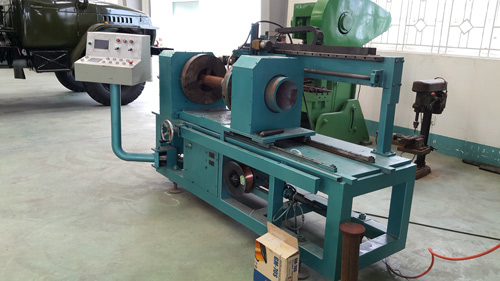 Dr. Nguyen Thanh Phuong and Dr. Nguyen Van Hieu say they have created an automatic pipe welding machine which has production costs much lower than similar imports.
The locally made welding machine will help engineers save money and time in operation and maintenance.
The strong development of Vietnam's industries has led to an increasingly high demand for welding equipment, welders and advanced welding technology.
Welding, however, remains an underdeveloped sector in Vietnam and is often associated with the marine industry. However, it covers many fields. In order to offset a manpower shortage, Vietnamese businesses need to apply advanced technologies to improve the capacity and quality of products.
Dr. Nguyen Thanh Phuong from the HCM City University of Technology said there were many welding methods, including oxy-fuel welding, arc welding, resistance spot welding, ultrasonic welding (UW) and especially, automatic soldering.
HCM University of Technology was established in 1957 and has been recognized as a centre of excellence among technological universities in Vietnam. Prior to the country re-unification in 1975, the university was the only institution to produce engineers in the Southern Vietnam. It is now the largest, most prestigious and the oldest engineering university in the South of Vietnam.
Domestic research works have successfully created self-propelled welding robots controlled by software, and robots integrated with operation units that teach other robots to weld.
The robots can work in the shipbuilding industry, weld chassis on automobile production lines and replace workers in toxic environments. They also can complete work that needs high accuracy, such as work on pipes.
Dr. Phuong said pipe welding was used largely in technical fields. Making the automatic welder was needed as it can bring high economic efficiency.
Phuong and his colleague, Nguyen Van Hieu, deputy director of the A41 aircraft repair factory, began work on a welding machine to help save costs and produce higher quality products than traditional welding methods.
All the equipment for welding pipe-shaped metal components must be imported, which adds up to high costs for enterprises for operation and maintenance. In general, only foreign-invested enterprises and large corporations are financially capable of buying the technologies and machines.
The automatic pipe welding machine consists of three parts – mechanical, electrical-electronic and operation units, each of which has its own function.
The base of the machine is designed in a way which allows operators to put it in the areas with different terrain. It can run with 1-phase and 3-phase AC power sources.
The product has been put into operation at the workshops of the A41 factory, a unit of the Ministry of National Defence.
Kham Pha