Japanese companies are ready to transfer agricultural technologies to Vietnam to turn out quality products for export to Japan.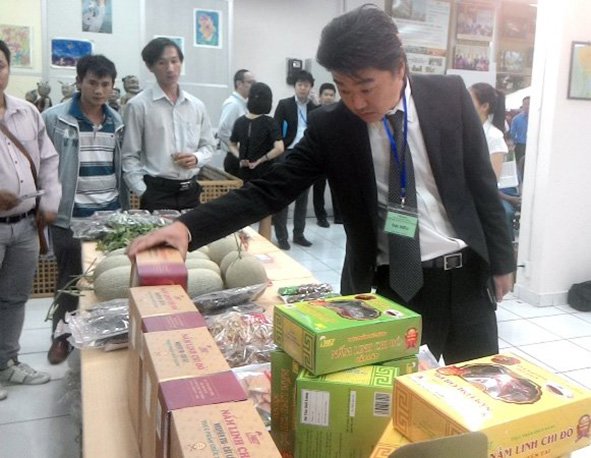 A Japanese businessman inspects Vietnamese farm produce.
Speaking at a forum organized by the HCMC Hi-tech Agricultural Park last week, representatives of 12 Japanese firms said that they are seeking to transfer advanced farming and processing technologies to Vietnamese partners. They will also cooperate with local firms in exporting products to Japan.
While many Japanese firms have invested in manufacturing and services in Vietnam, cooperation in agriculture and technology transfer between both sides has yet to match its potential.
Tu Minh Thien, deputy head of the park's authority, said technology transfer in the agricultural sector is still modest. Vietnam's agriculture has yet to attract many foreign investors despite its huge potential.
The application of information and communications technology (ICT) in the agricultural sector remains meager, making it hard for the sector to improve productivity and boost export. Therefore, cooperation with Japanese firms will help Vietnam cope with these problems, Thien said.
Nguyen Tri Dung, general director of Minh Tran joint venture, which helps promotes technology transfer between Vietnam and Japan, said now is the right time for Vietnam to apply advanced technologies to raise productivity and improve product quality.
At the forum, Japan's Syudensya Co. announced a US$1-million technology transfer to the Hi-tech Agricultural Park to make micro-organic fertilizer from agricultural byproducts.
SGT