VietNamNet Bridge - Mobile network operators still have not found technical solutions to prevent spam messages.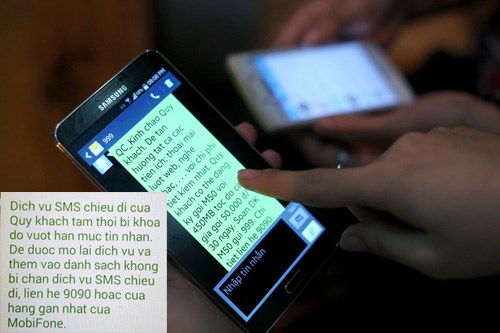 Mobile subscribers have complained that they cannot send SMS as the messages are listed as 'spam' and are blocked by mobile network operators.
QH, the subscriber of 0938088xxx, on April 1 realized that many of her messages could not reach receivers, which affected her businesses.
QH said it this is her busiest time of the year, when she must send messages to clients and managers to update information. 
"My phone reported that my messages could not be sent. Later, I received a message from MobiFone that the mobile network operator refused to provide services because my number of messages had exceeded the limit," she said.
When she contacted MobiFone, she was told that she had sent too many messages within a short time, and that her messages would be blocked until the end of the month.
When QH asked a MobiFone's officer how many messages she had sent so far and what the limit for SMS was, the officer said clients could not receive this information.
VA, the subscriber of 0909252xxx, said her messages have not been sent since the afternoon of April 2. 
"I have been told that I sent too many messages. But I think I did not do this. The time between the previous and the next messages was 10 minutes at least," she said.
A senior executive of MobiFone, one of the three largest mobile network operators in Vietnam, said it had installed a system to block spam messages as per the request by the Ministry of Information and Communication. 
"The clients who send more than 15 messages within 3-5 minutes will see their messages blocked," he said.
An analyst noted that blocking spam messages based on the numbers of messages sent by subscribers within a certain time is not a good technical solution.
"I have heard that many clients have claimed their 'innocence', saying that their 'clean messages' were blocked," the analyst said.
Vo Do Thang, director of Athena, an internet security training center, noted that it would be unfair to clients if mobile network operators automatically blocked messages based on the number of messages sent with no reference to the subscribers' SMS profiles.
Vu Ngoc Son, deputy president of BKAV, the leading internet security firm in the country, noted that though mobile network operators said they have begun applying the measures to block spam messages, subscribers still are "tortured" with spam messages every day.
Son noted that technically, blocking spam from switchboards is the optimal solution. However, the success of the solution depends on many factors.
NLD