VietNamNet Bridge - BKAV, a wholly owned Vietnamese enterprise, has promoted its BPhone smartphone as a super product, but the device remains a mystery.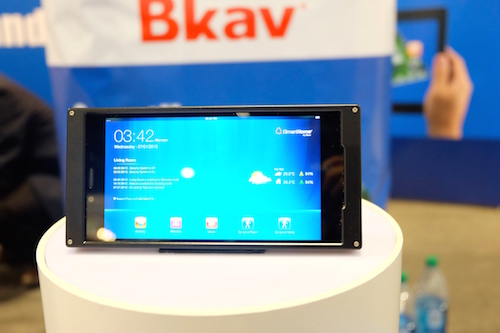 BPhone was first mentioned in the mass media after it unexpectedly turned up at a CES exhibition last year. 
BKAV said the smartphone model had a beautiful design. However, no one could see the smartphone because BKAV covered the product with a box.
The statement then immediately stirred up the public as many did not believe that a Vietnamese company could manufacture smartphones. However, doubts raised by the public made the BPhone an even hotter item.
"BPhone is one of the best designed smartphones, a high-end product with strong configuration, but the selling price is not overly high" Vu Thanh Thang, vice president of BKAV, said. 
"Our plant in Cau Giay District, Hanoi can manufacture tens of thousands of products each month. If we have positive feedback from the market, we can quickly increase capacity to hundreds of thousands of products each month with the workshop in Hoa Lac Hi-Tech Park," he said in an interview.
After that, some images of BPhone with a glass back, being assembled in a BKAV factory in Hanoi, appeared in local newspapers. 
BKAV's managers then said the BPhone would hit the market in the first quarter of 2015, which set people's curiosity agog.
Most recently, BPhone was once again seen in the hands of BKAV's CEO Nguyen Tu Quang at his company's conference. Quang noted that BPhone was even better designed and individualized than iPhone 6.
A branding expert said that BKAV has been following a misleading advertisement campaign.
"They (BKAV) made strong commitments about the product, but did not show what they can do," he said. "As a result, people's doubts about BKAV's ability have grown."
How BPhone is made remains a big question, though BKAV says the product is "100 percent Vietnamese".
Analysts said they don't think the smartphone was "ordered by BKAV" and "outsourced to China", or "assembled in Vietnam with components from China". In other words, the product is designed by BKAV and its components made in Vietnam.
Meanwhile, a reporter who visited BKAV's factory in Hanoi thinks BKAV has only designed the features and exterior of the product, and has imported components from China and assembled the finished product in Vietnam.
An expert said that BKAV was likely to buy a production line from China and use it in Vietnam. He said this was feasible as they are not too costly.
Buu Dien