VietNamNet Bridge – Vu Xuan Linh, better known as Quoc Anh, 32, is the only Vietnamese citizen who still has the opportunity to join Mars One, the $6 billion program that will establish a human settlement on Mars.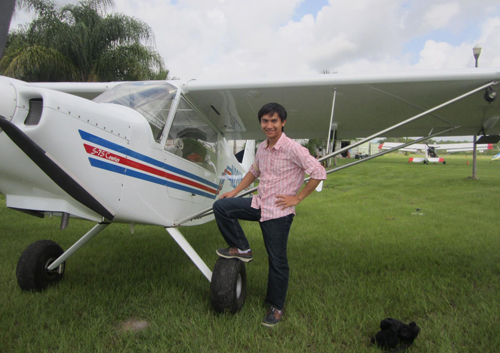 After half a century of aerospace industry development, 42 spacecraft missions have been sent to Mars.
Mars One is a project initiated by Bas Lansdorp, a Dutch businessman, which aims to take the first humans to Mars and establish a permanent human colony there by 2025.
The project is scheduled to last from 2013 to 2026, and estimated to cost $6 billion.
Citizens of any country who have good health, knowledge and behavior can apply to join the program. Mars One's original concept included launching a robotic lander and orbiter as of 2016, which would be followed by a human crew by 2022.
The crew would become the first permanent residents of Mars with no plan of returning to Earth.
More than 200,000 candidates from 150 countries registered to join the program, while only 50 men and 50 women have been selected for the final selection campaign. The list of the 100 candidates includes one Vietnamese citizen.
In the last competition round, candidates compete in four-member groups. Six groups will be selected for the next ground. It is still unclear what competitors have to do, but sources said they have to show an ability to work and survive with their teams.
The candidates to be selected will have to undergo a rigorous practice course for eight years until they are ready for the trip to Mars.
It is expected that one spacecraft will be sent to Mars for permanent settlement every two years, which means that 20 of Earth's citizens would be present on Mars by 2033.
Quoc Anh, the only Vietnamese representative in the program, is described as a clever, dynamic and ambitious young man.
Anh studied at the Hanoi Technology University, the most prestigious polytechnic school in Vietnam. But after one year there, he left for Singapore where he studied at the National University of Singapore. After that, he received a master's degree from  Columbia University.
Anh has been working for a foreign-invested technology group since returning to Vietnam.
Anh registered to join the program when he was in the US and heard about it after a press conference was held there.
"I think all boys and girls cherish the dream of conquering space," he said.
"If you want to fulfill your dream and do something great, you will have to sacrifice other things," he said, explaining why he wanted to join the program.
Tri Thuc Tre