The Ministry of Information and Communications has urged local mobile phone service providers to draw up contingency plans to cope with network jamming during the upcoming Lunar New Year holiday, better known as Tet in Vietnam.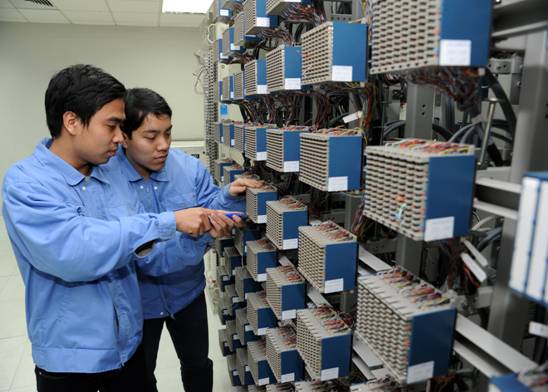 Pham Hong Hai, director of the ministry's Telecommunications Department, requested mobile carriers to prepare for the worst, especially in the peak hours of the Tet holiday.
Congestion normally happens to carriers with large numbers of subscribers such as Viettel, MobiFone and VinaPhone as many subscribers complained that they could not make calls or send text messages on New Year's Eve due to the congestion of 2G networks.
However, mobile carriers said they have invested much in 3G services to serve the increasing number of subscribers using smartphones to upload photos and videos on social networks.
Representative of Viettel confirmed that it has readied to serve its customers during the upcoming holiday with a network capacity of 300 million calls an hour, double the usual demand on New Year's Eve.
The military-run telco has upgraded and installed more than 6,500 of 3G base transceiver stations (BTS) since the fourth quarter of last year, bringing the total number to 30,000 nationwide. It has improved the capacity of nearly 1,000 stations and added up 3,700 BTS on skyscrapers.
As for Internet connection, Viettel has improved both local and international Internet traffic with an additional capacity of 60Gbps and 70Gbps respectively.
MobiFone has increased the number of 3G BTS nationwide by 40% and upgraded over 3,000 ones to prevent congestion during Tet. Moreover, 10 mobile BTS trucks will be mobilized to back mobile phone connections at crowded locations during the holiday.
Currently, MobiFone can serve 40 million mobile phone subscribers and over 15 million 3G users.
"Our system can handle 40 million text messages an hour," said Dinh Viet Hung, marketing and telecom charge director of MobiFone.
Representatives of Viettel, MobiFone and VinaPhone said they have drawn up contingency plans to ensure good operations during the weeklong Tet, which starts on February 19
Phan Hoang Duc, deputy general director of Vietnam Post and Telecommunications Group (VNPT), said VinaPhone is now getting ready for the biggest holiday of Vietnam.
SGT