VietNamNet Bridge – The public has been stirred up by the news that "a Vietnam-made smartphone, comparable to the iPhone" will be launched on the market in several months.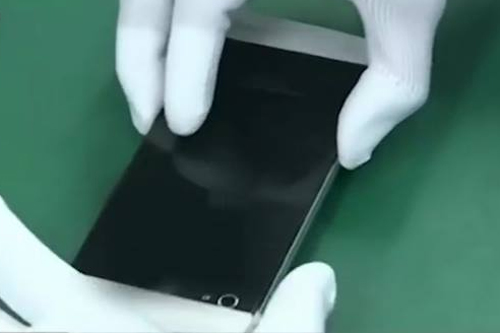 The smartphone, manufactured by BKAV, well known in Vietnam as an internet security firm, is described as one that could compete with iPhone and Galaxy Note. It was displayed at 2015 CES, a consumer electronics exhibition in the US.
The smartphone model was brought by BKAV to the exhibition together with BKAV SmartHome.
Some experts said the smartphone caught more attention than the SmartHome.
The details of the product remain secret. However, it will be a high-end product with the a sophisticated design on the cover, glass and all details. It is expected to have a 5-inch screen and perfect full HD.
The product was designed by BKAV and made in Vietnam. It is very likely to be named the BPhone.
The internet security firm's managers have stated in mass media that the firm plans to sell products worldwide and will compete directly with iPhone and Galaxy Note, the products in the same segment.
Regarding the launch time, a senior executive of BKAV said the product will turn up in Vietnam in late March and will be sold in April.
The strong commitment by BKAV's managers on an internationally competitive product has raised doubts among people who assume that Vietnam cannot manufacture a high-end product using high technology.
However, BKAV has shown evidence that this is within Vietnamese capability.
Vu Thanh Thang, deputy chair of BKAV, said BKAV has been following a plan to develop smart products for 11 years, while it took four years to make the smartphone model.
Five years ago, BKAV decided to set up a factory making components for smartphones, since it could not find suitable domestic component suppliers.
However, what most attracts Vietnamese attention is Qualcomm's latest-generation chip, which will be integrated into BKAV's smartphone.
BKAV has become the first country in Southeast Asia and the fifth in Asia to sign an agreement with Qualcomm on using its high-end chip.
This has been confirmed by Thieu Phuong Nam, Qualcomm's Indochina Director, who noted that BKAV is a strong rival in the smartphone market.
Thang said BKAV has introduced its products to partners in the US and Asia Pacific and has received positive comments about BPhone. Some partners have asked for the right to distribute the product.
Meanwhile, the first comments on the BPhone appearing in hi-tech product forums indicate that the made-in-Vietnam product is not highly appreciated.
BPhone is forecast to be sold at VND12 million.
Chi Mai