VietNamNet Bridge – New water- and cost-efficient farming techniques will allow Viet Nam to reduce greenhouse gas emissions in wet rice production by 15 to 20 per cent by 2020, said Mai Van Trinh, director of the Ministry of Agriculture and Rural Development's Institute for Agricultural Environment.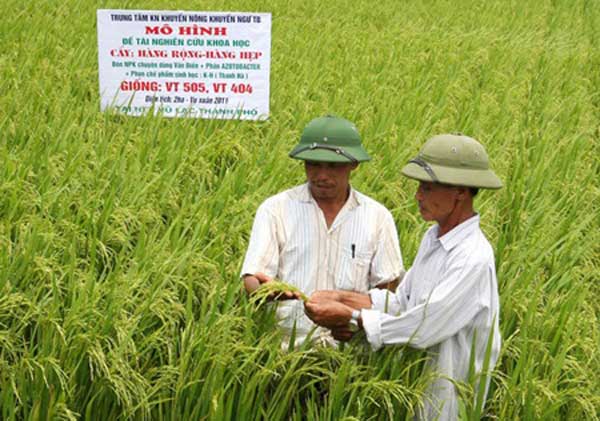 Farmers check the rice plants at the Vu Lac Cooperative in Thai Binh Province. New farming techniques will allow Viet Nam to reduce greenhouse gas emissions in wet rice production by 15 to 20 per cent by 2020, says an official. 
Trinh spoke at a conference held yesterday on the first phase of the Project on Reduced CH4 Emissions in Wet Rice Cultivation in Viet Nam. Trinh's institute and the Manila-based International Rice Research Institute held the event on Friday, Jan 23, in Ha Noi.
To achieve the target, the ministry will use the System of Rice Intensification (SRI), a plan in which farmers will increase productivity, quality and economic effectiveness, while reducing pesticides and nitrogenous fertilisers.
In addition to these measures, the ministry will also encourage farmers to use green production methods. The sector will also apply Good Agricultural Practices (GAP) in cultivation, which means using techniques that consume less fertilisers and water, employing better land preparation techniques and reducing methane emissions.
Another technology mentioned at the conference was Alternative Wetting Drying (AWD).
"Actually, to reduce greenhouse gas emissions in rice growing, the institute has tried AWD while implementing a project on reducing CH4 emissions in wet rice cultivation," Trinh said, adding that AWD is no longer strange to rice growers in Viet Nam, as it has already been incorporated in several other programmes, including SRI.
Vu Duong Quynh, the project coordinator, said a major challenge with SRI is water management. Most problems are caused by the unfavourable terrain in many areas, fragmented rice fields and a lack of co-operation between irrigation staff and farmers. This is especially troublesome considering the fact that efficient irrigation is the best way to reduce greenhouse gas emissions, Quynh said.
To overcome these difficulties, Quynh said that in its first phase, from October 2014 to June 2016, the project intends to collect lessons learnt from efficient irrigation models and to gather data on land and infrastructure in each province, to make a water-efficient irrigation map.
"When looking at this map, one can read out which province can apply AWD, as not all types of land are suitable for this technology," Quynh said.
In the second phase, the project will incorporate other technologies.
Source: VNS