VietNamNet Bridge - Scientists have discovered a new tree frog species in Kon Tum and Gia Lai provinces in the Central Highlands of Vietnam.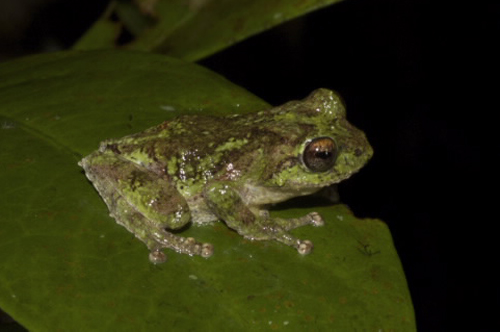 The new species is named Kurixalus motokawai to honor Dr. Masaharu Motokawa from Kyoto University. He is a researcher of mammals and has made many contributions to the study and conservation of biodiversity in Vietnam.
This is the second species of Kurixalus tree frog discovered in the Central Highlands in 2014, bringing the total number of species of tree frog in Vietnam to 73, accounting for 20% of all species of tree frogs of the world.
Morphologically, Kurixalus motokawai sp. nov. is most similar to K. banaensis but they are clearly separate from each other in mitochondrial DNA sequences. In phylogenetic analysis, the new species is clustered in the same clade with Kurixalus banaensis and K. viridescens.
However, the new species differs from K. banaensis by having a smaller body size, a higher ratio of forelimb length/SVL in both sexes, a smaller ratio of first toe length/SVL in males, a snout tip less markedly pointed, and weakly developed dermal appendages on the outer edges of fore- and hindlimbs.
Kurixalus motokawai sp. nov. also differs from K. viridescens by having a smaller size in females and a brown dorsum with dark markings.
My Linh