The country has recorded 27.5 million 3G subscribers this year, disclosed the Viet Nam Telecommunications Authority under the Ministry of Information and Communications.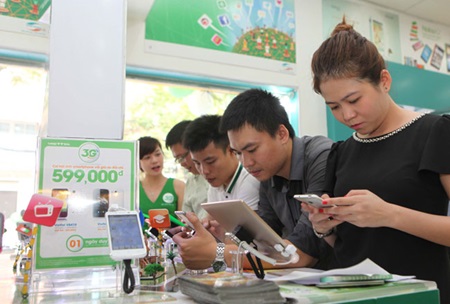 The figure was higher than the previous number announced by Viet Nam's 2014 White Book on Information and Communication Technologies (ICT), which showed only 19.7 million subscribers, an increase of four million subscribers compared with last year.
However, several various definitions of 3G subscribers provided different numbers.
Telecommunications providers said that this year marked a strong development of 3G subscribers but indicated a sharp decrease in the number of Short Message Service (SMS) users.
Nguyen Dang Nguyen, deputy general director of Mobifone, revealed that the 3G flow rose by 50 per cent compared with last year by the end of September.
In addition, Mobifone's 3G subscribers saw relatively high growth.
Ngo Manh Hung, deputy general director of Viettel, shared that its number of 3G subscribers had reached nearly nine million in the first seven months of the year.
This reflected that 3G has become a vital service in modern life.
Vinaphone also revealed that the number of 3G subscribers sharply increased, while 2G service and SMS have experienced a downward trend.
Minister Nguyen Bac Son said that Viet Nam has been providing 3G services since 2009. Moreover, demand for these services has surged and provides greater convenience to the users.
However, Thieu Phuong Nam, country manager of Qualcomm Viet Nam, Cambodia and Laos, shared that 3G service in Viet Nam has room for development since the number of users is still low.
The number of 3G users was as high as 70–80 per cent in developed countries.
In addition, Viet Nam is one of the countries with the lowest 3G prices in the world. The quality of the service has continued to improve as well.
All telecommunications providers have offered the service to mobile phone subscribers.
The 3G service is considered a basic service for mobile phone subscribers. For this reason, customers are able to use the service immediately after activation, rather than being forced to register for the service first.
Telecommunications providers have suggested that users should choose a suitable fee package to control their spending. 
VNS