VietNamNet Bridge - Scientists have discovered a herd of about 30 Muntiacus Rooseveltorum muntjac deer in the jungle in Thanh Hoa Province. This species was thought to have been extinct since 1929.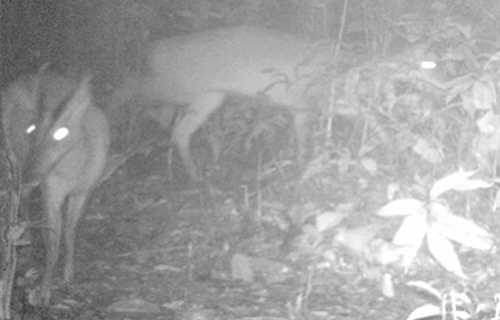 Photo of the Muntiacus Rooseveltorum muntjac deer captured by a camera trap.
According to the forest management bureau of Thanh Hoa province, the muntjac deer are living in Xuan Lien Nature Reserve in Thuong Xuan district.
The species used to live in Hua Phan province (Laos) and were considered to be extinct from 85 years ago. The skull of this species is preserved only at the American Museum of Natural History.
To define the number of individuals of this rare species, scientists used camera traps set near rivers and streams, where there are available food sources.
Nguyen Dinh Hai, director of the Nature Conservancy of Xuan Lien, said the discovery has an important meaning for scientific study and conservation of genetic resources of rare animals in the nature reserve.
The local rangers are trying to promote people's awareness of the importance of wildlife conservation in general and preservation of this rare species.
Since 2012, the Cress Center of Hanoi National University in collaboration with Xuan Lien Nature Reserve carried out a project to survey and preserve muntjac species in this nature reserve.
During the survey, scientists took pictures of the Muntiacus rooseveltorum muntjac species and collected several samples of fences in nature and skin and skulls of the species at the home of local people.
A Muntiacus rooseveltorum muntjac skull kept at the home of a local resident. Photo: Xuan Lien Nature Reserve.
Comparing the DNA tests of these samples with the DNA of the extinct muntjac species in 1929 stored at the Natural History Museum in the US, scientists have confirmed that they are the same. They have come to the conclusion that the extinct muntjac species has reappeared.
S. Tung