VietNamNet Bridge – On September 11, doctors of the General Hospital of Binh Dinh province successfully performed a surgery to cut off tumors caused by silicone on the penis of a 36-year-old man from Quy Nhon.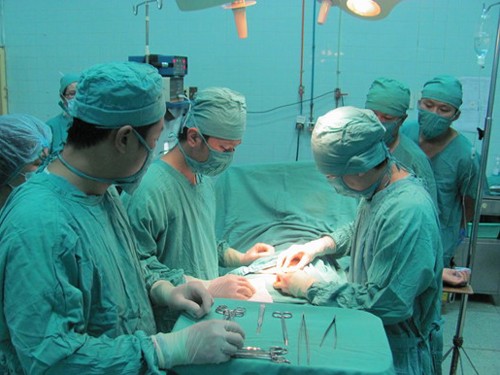 The doctors are performing the surgery.
The operation was conducted in nearly two hours by two leading doctors of the andrology ward, Dr. Huynh Van Nghia and Dr. Dang Tuan Hai.
The doctors cut off the penis skin with silicon tumors and then "buried" the penis below the scrotum. Three months after this surgery, the patient will experience the 2nd surgery to reconstruct the penis.
Dr. Huynh Van Nghia says that this is the first silicon tumor surgery at the hospital.
On September 4, the patient named LTM was hospitalized with big tumors, edema and vascular proliferation caused by silicone injection into the penis to increase in size.
Through examinations, doctors found out a lot of tumors on the penis and foreskin causing pain. The tumor size was measured at 3 x 3 cm, edema and vascular proliferation.
According to the patient, three years ago when this man worked in Thailand, he injected silicon to the penis at the advice of his friends, in order to increase the size.
At first, the "size" was also improved but then the penis was deformed and was oddly big. The man was scare because he got married a month ago and he could not have sex.
NLD