VietNamNet Bridge - In Phu Thinh commune, Tam Binh District of the southern province of Vinh Long, there are thousands of people with the Nguyễn surname. In the past 10 years, many people had their surname noted wrong on their personal papers as "Nguyển" because the officers lisped and also misspelled. That small error was not discovered in nearly the past decade but now it leads to big trouble when their children go to school.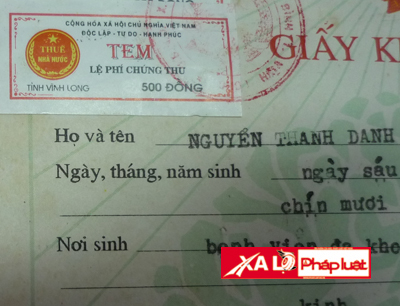 Nguyễn is one of the most populous surnames in Vietnam and even in the world. However, due to lisp, a commune officer who was in charge of making birth certificates misspelled "Nguyễn" as "Nguyển" in many birth certificates. The tilde was replaced by question mark.
Mr. Nguyen Van Bay, chairman of Phu Thinh commune said that Mr. Nguyen Hoa Khoi worked as a judicial officer of Phu Thinh commune from 1994 to 2005. During more than ten year doing this job, all birth certificates for babies of the Nguyễn surname were noted by Khoi as Nguyển.
All the children who were born from 1994 to 2005 whose fathers have the surname Nguyễn have their birth certificates noted with the Nguyển surname. The error was not detected early because people did not pay attention to details in the document until their children went to school. In some cases, the school admitted the birth certificates but in others, they detected the error and asked the families to correct it.
The commune chair said that to correct the birth certificates, people have to take the birth certificates of their fathers to the commune authorities for conformation and then take the papers to the district administration for correction.
It sounds to be simple for the correction but in many cases, both the father and the children have birth certificates with the wrong surname of Nguyển. Some people in such a case had to change their surname from Nguyễn to Nguyển.
Many local people have moaned of the trouble in changing their surname.
Mr. Nguyen Van Bay, Phu Thinh commune chairman said that the judicial officer who made the mistake is now 60 years old. Bay explained that in the 90s, local officials were not well trained so that mistake occurred."
"The incident was discovered when he retired so it is difficult to reprimand him. Currently we are looking forward to people's sympathy for this negligence and we will create the most favorable conditions for the people to take back their last name," said the Chairman of Phu Thinh commune.
XLPL