VietNamNet Bridge – Welcoming the first baby, doctors of the Kon Tum Province Hospital were surprised to find out the second baby being conjoined with the first at the abdomen and in the breech position.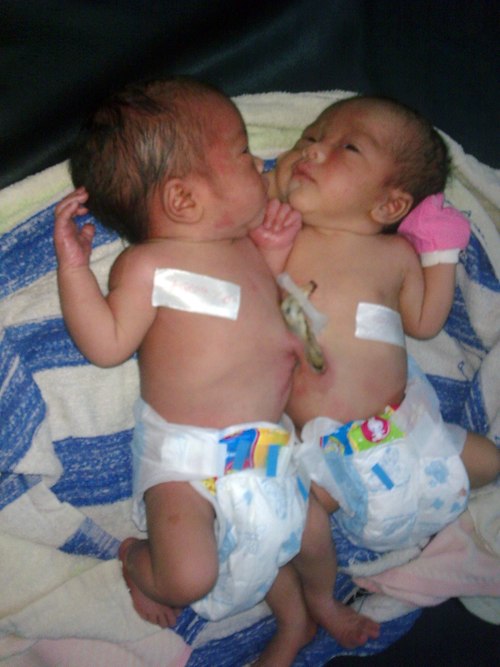 According to the doctors, the second child was in breech birth so the baby was in a state of cyanosis and apnea. Thanks to doctors' attempt at resuscitation and care, the baby has recovered.
The baby girls are healthy now, weighing 2.7 kg each and they are four days old. They are conjoined in the belly and navel and they look normal as other babies.
The mother is an ethnic minority woman of 31 years old from Vinh Quang commune, Kon Tum City, Kon Tum province. She was hospitalized on July 1 with signs of labor.
Previously, the woman had an ultrasound scan but doctors did not detect the conjoined twins. The woman was instructed to give birth in normal way.
This is a rare case of conjoined twins born by normal delivery method. Normally, with conjoined twin cases that are diagnosed early, doctors will intervene by cesarean to ensure the safety of both mother and children.
The two babies are under special care to prepare for the upcoming separation surgery at the Kon Tum Hospital, instead of in a hospital in HCM City as usual.
Le Ha