VietNamNet Bridge - At first glance, many people will mistakenly believe that Tran Thi Loan is a five-year-old girl. In fact, the 80cm tall "kid" is already 18 years old.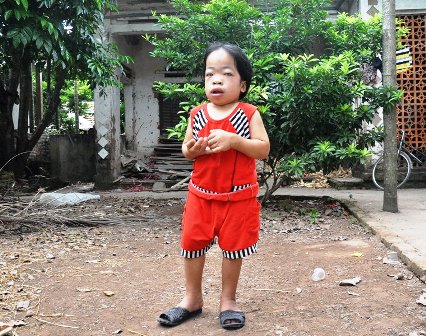 Tran Thi Loan, 18.
That is the case of Tran Thi Loan, 18, the daughter of Mr. Tran Van Thom, 47 and Hoang Thi Binh, 41, in village 7, Tien Phong commune, Duy Tien district, Ha Nam province. Loan is 18 years old but she looks like a five-year-old kid, who is only 80cm tall and nearly 22kg in weight.
Loan's mother - Mrs. Binh said, Loan's brother named Tran Van Duc (born 1994), who died at the age 13, suffered from the similar symptoms with Loan. They were born normally but the more they grew up, the slower development of their body was recorded.
When Duc was 13, he looked no different than a three-year-old baby. The coupled took Duc and Loan to many hospitals but doctors did not find out the disease. Duc died at the age of 13. Loan was taken care of very carefully by her parents but she has not grown up physically.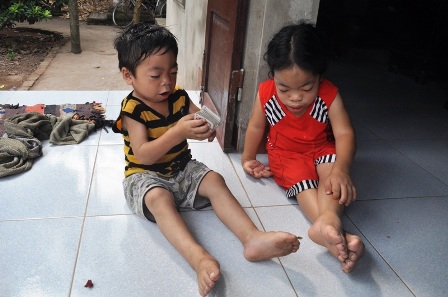 Loan, 18, and her brother, Tran Van Duy, 8.
In 2005, the couple had another baby, named Tran Van Duy. The boy looked very normal at birth but he has shown the same symptoms with his sister. Duy is now 8 years old but he weighs only 14kg and over 70cm tall.
Thom said: "When she was young, we still sent her to school but she had to quit studying when she was 10 years old because her eyesight got worse..."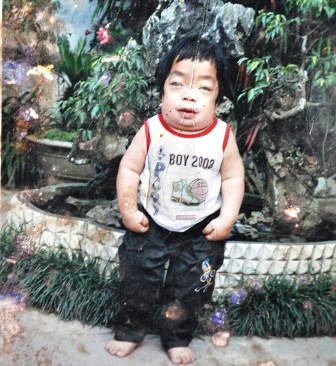 Tran Van Duc at the age of 13.
Loan currently plays with other children in the village or watches TV. She cannot do anything, even personal hygiene. Duy is now a third grade pupil and he is the smallest in his class.
The father, Mr. Thom does not know why his three children suffer from the same symptom. He said he worked in the central highlands province of Lam Dong for three years, from 1992 to 1995. During this time he caught very severe malaria. After that Thom was very weak and had to return home.
Many charitable groups took blood samples of Loan and Duy for testing but the reason of their disease has not been defined yet.
Minh Loan