VietNamNet Bridge – Mr. Vo Van Khu, 52 years old, in Thach Ban Tay village (Cat Son commune, Phu Cat district, Binh Dinh province) has a huge tumor on his face, so local people often call him the man of the devil face.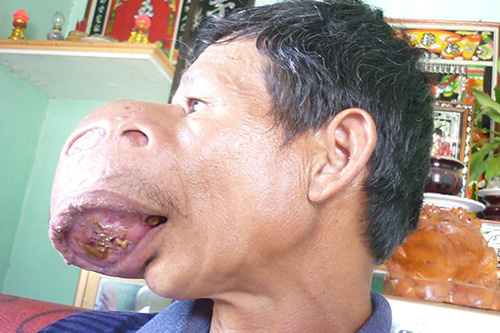 Photo: TTO
The giant tumor drags down one side and squashes his nostrils.
According to Khu, when he was born, he looked normally like other babies. Until the age of 16, a red spot liked a mosquito bite suddenly appeared on one cheek. Since then, that spot kept spreading, swelled up and made him painful.
The family took him to the hospital, where doctors diagnosed him with a benign tumor on the face. They told the family that the tumor could be easily operated.
"The doctor said my tumor is not malignant, but it will grow and survive my whole life," Khu said.
The family did not have money for the surgery so Khu had no choice but to go home and pray. He then met Ms. Ho Thi The and married her.
It seems that impoverishment deprived Khu from the right to choose. He said: "I accept this disease. I just wish to have good health to help my wife and children for the rest of my life."
Lan Nguyen