VietNamNet Bridge- For over 30 years, because of a passion that unlike others, Mr. Luu Cong Huyen has not cut his nails, which are now 50cm long. Because of the long nails, the man rarely bathes or touches the water. He even covers his hands when he goes out in rain.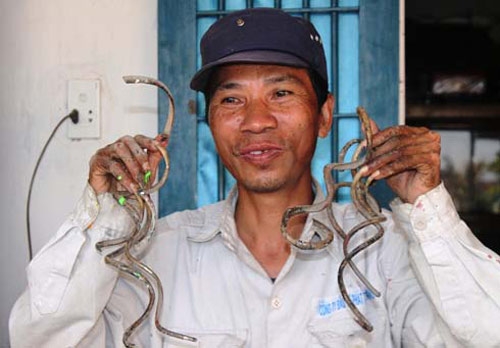 Huyen, residing in Hamlet 4, Yen Giao commune, Giao Thuy district, Nam Dinh province, is considered the man with the longest nails in Vietnam. Huyen is a painter, who specializes in drawing home patterns.
Showing his nails which look like "snakes," the man said: "Many people were terrified by my fingernails. Some children even cried. They told me to have nails of devil. That's true because nobody in the province have long nails like mine."
Sitting at the table, he struggled to hold kettle. It was more difficult for Huyen to hold a cup with the curly fingernails like earthworms. Huyen sighed: "These long nails are just effective to scare little kids."
Innate knacks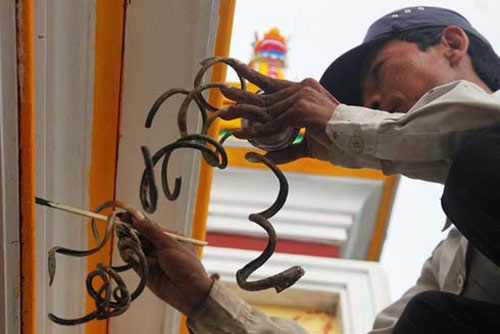 When the conversation became more intimate, Huyen said: "I was born in 1958, the 7th child in a family of 10 brothers and sisters. When I was young, I wished to become a shaman but my dad told me to not pursue this road. My education is not high but I have a talent that everyone must recognize."
Since childhood, Huyen had the drawing knack. The boy could draw anything that he saw. His first painting surprised his family. It was the portrait of his father, drawn with soot. Seeing Huyen's talent, his father wanted to send him to school for training but he was too poor to afford schooling. Not only drawing, Huyen is also very talented at embroidery or sculpture although he has never been trained.
When he was a young man, Huyen worked as an MC at funerals or weddings. His speaking skills attracted a girl named Nguyen Thi Thuan, who then became Huyen's wife.
After the wedding, Huyen began having an odd hobby: raising long nails. So far, he has not cut his nails for 33 years. He is now called by locals as "Huyen mong" (nail Huyen).
His main work is drawing patterns for houses, temples and local churches. Huyen is the leader of a group of talented artists of Nam Dinh. He is also good at calligraphy.
Raising nails is harder than parenting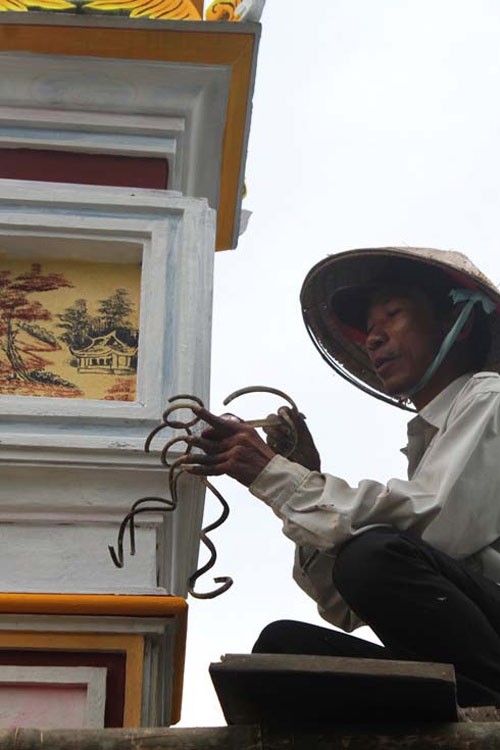 Talking about his hobby, Huyen seemed to be very excited. He said: "Others like raising birds, planting trees or collecting old vehicles… I just like raising long nails. Raising nails is more difficult than parenting. I must be very careful in every move to keep my nails."
According to Huyen, in almost 33 years he rarely touched the water because if the nails expose to water they will be soft and easy to break. Even when he goes in rain, he protects his hands in plastic bags.
Even his bathing is very limited and he needs his wife's help. It is the most difficult to wear a shirt. For many years Huyen has not shared his bed with anyone for fear of being weighed down his nails. Especially when eating, sometimes he had to ask others to spoon him.
Huyen said: "Once I lost a nail because of an accident. I could not eat or sleep because of that incident. Once I almost died of an accident just because of keeping my fingernails. Someone told me if I cut my nails, they would give me a lot of money but I refused. I will not exchange my nails for money, even a lot of money."
Kien Thuc