VietNamNet Bridge - A farmer in the northern province of Hoa Binh caught a fish with a strange shape several days ago. Leading experts on freshwater fish said it could be an Ophicephalidae snakehead.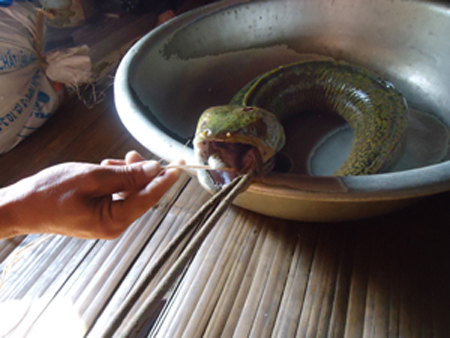 Early this week, Mr. Bui Van Nguyen, a resident of Don Village in My Hoa commune, Tan Lac district found an exotic fish under the mud while pumping water from a spring.
"The fish is very strong so I had to ask for help from my two neighbors. It took us 30 minutes to take the fish to the shore," Nguyen said.
The unknown catfish has a snake head while its body and tail look like an eel. It is 1.14m long and 4.2 kg in weight. The weird thing is that it has a pig tongue.
Many people in Don Village said they had never seen such a fish.
Dr. Nhezdoli, an expert of ichthyology, from the Vietnam-Russia Tropical Center, was very surprised when he saw the picture of this strange fish. However, the world's leading expert on freshwater fish guessed that the fish may belong to the Ophicephalidae snakehead family.
"To determine the name and species I need a specific specimen," he said.
The snakeheads are members of the freshwater perciform fish family Channidae, native to Africa and Asia. These elongated, predatory fish are distinguished by a long dorsal fin, large mouth and shiny teeth. They breathe air with gills as well as with suprabranchial organs developing when they grow older, which is a primitive form of a labyrinth organ. The two extant genera are Channa in Asia and Parachanna in Africa, consisting of 30-35 species.
Compiled by Mai Lan