VietNamNet Bridge – Many people didn't know whether to laugh or cry when they saw a photo of a man in flood-hit Muong La District in the northern province of Son La wearing a skirt. In another photo from the district that has also gone viral on internet in the last few days, local residents are shown holding a bikini.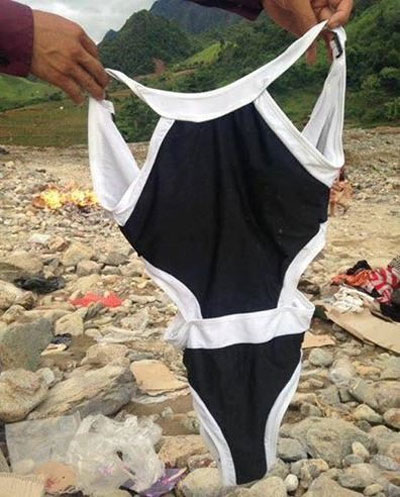 The bikini are among items donated to victims of the flash floods. — Photo zing.vn
The skirt and the bikini are among items donated to victims of the flash floods.
According to the Central Steering Committee for Natural Disaster Prevention and Control, heavy rains and flash floods early this month have killed 26 people and left 15 missing and 27 injured in the northern mountainous provinces, mostly Yen Bai, Son La, Lai Chau, Dien Bien and Cao Bang.
Torrential rains and floods also swept away or collapsed more than 230 houses, damaged 245 houses, submerged 338.5 hectares of rice, and led to the evacuation of 398 households.
Agencies, organisations and individuals across the country and overseas have rushed to help. Flows of aids including food, clothes and other necessities have been sent to the disaster-hit areas.
Residents appreciate the support but were amazed to find among the donations items such as high heel shoes or overall skirts, hardly suitable to their needs.
Bottom line: donors, please consider giving what people need. Don't give what you don't need. 
VNS