What do you do when you see a bomb, especially a bomb with its detonator? The answer is you run away as fast and far as you can. However, there are exceptions to this rule.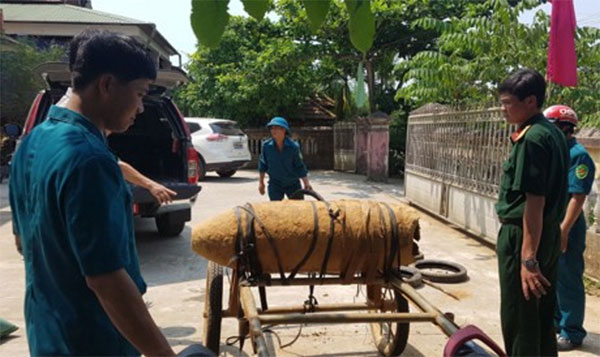 Ty was seized by local police last Monday night when he was carrying the bomb on his three-wheel vehicle. — Photo tienphong.vn
A man named Le Van Ty, 39, from the central coastal province of Quang Tri, did the opposite. 
Ty dug up a 322kilo bomb and a detonator in a rubber tree forest in Vinh Ha Commune. The first thing he thought when seeing the bomb was how much money he might make selling it.
Ty was seized by local police last Monday night when he was carrying the bomb on his three-wheel vehicle. 
The police then found that the bomb labelled M177, produced by the US, was left after the American War ended in 1975. 
The bomb contained about 185 kilos of explosives and could have gone off at any time. It was handed over to Quang Tri Military Command to deactivate.
Ty may have rued his fate in being caught by police. But on second thought, the police probably saved his life.
To quote an old adge, "he who knows nothing doubts nothing."
Hold on to your dear ones
People often drop things; however, "dropping" your wife is unusual.
A 65-year-old member of the Muong ethnic minority from the northern province of Phu Tho, was found yesterday frantically searching for his wife in Van Mieu Commune. 
He said he had dropped her but did not know where and was very worried.
Turns out the man was driving his wife on his motorbike to Tan Son District General Hospital to visit a relative. 
On the way home, the man drove fast and upon returning, found the back seat empty. He immediately got back on the motorbike and went to look for her. 
He searched in two communes - Van Mieu and Vo Mieu - along the way, to no avail. He then met a couple in Van Mieu Commune who joined the search. 
They eventually found her sitting near a beer restaurant in Long Coc Commune. A joyful family reunion ensued.
Moral of the story? Hold on tight to those near and dear.
Too clever is not clever
A first-year student in Ha Noi recently visited her boyfriend's house. Before the visit, she prepared at length to present her cooking skills to his family.
First, she prepared breakfast with bread, an omelette, fresh milk and fruit. Her boyfriend's father thanked her because he often had to eat instant noodles for his breakfast. 
Then for lunch she cooked fried beef and helped her boyfriend's mother cook sticky-rice. After lunch, she washed the dishes and also put lotus flowers in a vase. 
Her boyfriend's father continued praising her. She felt very happy and thought that she had made a perfect impression.
A week later, the girl received a message from her boyfriend. He said his mother wanted him to end his relationship with her because she was too clever and his mother did not like that.
Too clever is not clever, especially when you meet a mama's boy. 
VNS