At a workshop in HCM City last week, she introduced her company's herbicide to many scientists, agriculturists and plant protection specialists.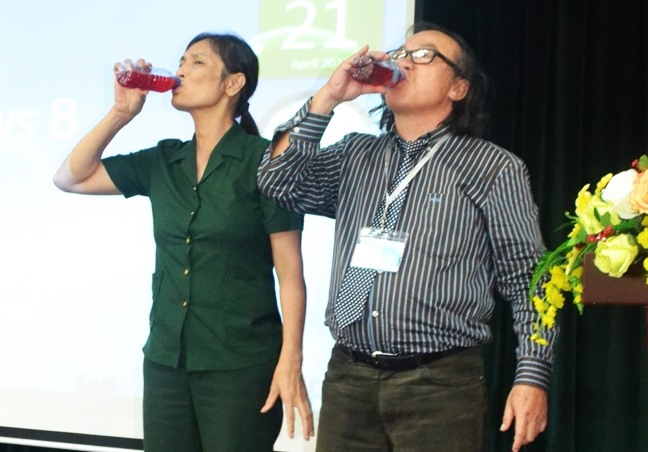 Phung Thi Hung, chairwoman of Hanoi-based Cat Tuong Technology Import-Export Co., Ltd, means business.
She said her herbicide was safe for humans, crops and biodiversity in general. To prove it, she tilted the bottle in front of the shocked audience and gulped down a few mouthfuls of the herbicide.
Dr. Nguyen Dang Nghia, director of the Southern Centre for Soil, Fertilizer and Environmental Research, decided to give it a try, too.
As this went to press, both businesswoman and scientist were in good health.
It was a serious illness that made Hưng passionate about medicinal herbs, she informed the audience. 
After her recovery, she spent 13 years researching and producing safe herbal herbicides, she said.
How exactly this herbicide would kill weeds was not clear, but the thought comes inevitably to mind: How did humankind miss the obvious for decade after decade, pouring its 'creativity and ingenuity" into producing food with massive inputs of stuff that was (is) poisonous for plants, the soil, the air, and humans themselves? The 'duhsayers' were dismissed as naysayers. 
VNS