The Thanh Nien online newspaper reported that a man posted an advertisement to find a wife on a social network last week.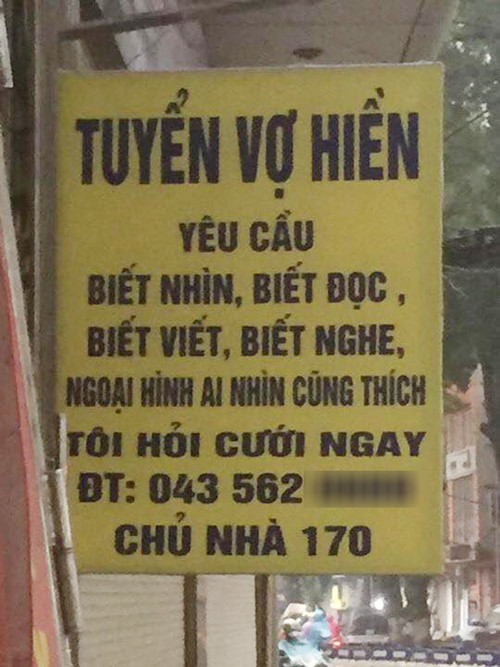 Vong's advertisement to find a wife who can read, write and listen.
In his announcement, he wrote that he needs a gentle wife who can read, write and listen. He also requires a good-looking woman who can attract many people at first sight. And he added that he would be willing to marry immediately.
The announcement included his phone number and home address. The post attracted the attention of many users of the social network.
Many people thought it was an advertisement to promote his business because the announcement was also placed in front of a shop selling stainless steel and aluminum.
Newspaper reporters phoned him at his posted phone number, and he admitted that he was the author of the announcement.
The man, named Vong, lives in Hanoi's Dong Da District.
During the phone call, he said, "I don't want to say much. You should bring your record to my house if you want to be my wife. I don't use Facebook or email, but you can send your photo to my phone if you have one."
He added, "I am married already and I still live with my wife, but I want to have another wife because my current wife is an unsatisfying woman."
He affirmed that he and his wife already have an arrangement to resolve any issues if someone applies to become his new wife.
"You can ask my wife if you have any questions," he said and hung up the phone abruptly.
The reporters then called his wife. She cried and said, "It is true, and just happened yesterday after we argued."
She said she married him 16 years ago and they have a 14-year-old son together.
"I felt very ashamed when he posted this announcement. And I'm afraid that my son will feel ashamed too if his friends find out," she said.
She said he had previously been married before marrying her.
She said she tries her best to care for her family, but her husband is still unsatisfied.
In 2004, he posted the same announcement, but she ignored it, she said. But this time, she cannot accept it anymore, she added.
She said she hoped that media and local authorities will help her and other women in the same situation to obtain justice.
VNS