VietNamNet Bridge - The most expensive beds in Vietnam are worth the value of a mansion. Many Vietnamese tycoons bought them to demonstrate their wealth or simply because they like unique items.
1. $300,000 bed of a tycoon in Vung Tau
One of the most expensive beds in Vietnam belongs to a businessman in the southern city of Vung Tau – Mr. Le An, the boss of Chi Linh resort.
In late 2013 An paid nearly VND6 billion ($300,000) to buy a bed. This bed is the most expensive in the world, with prices announced at $175,000.
It is named Royal Bed, designed after the bed of the British royal in 1640 – 1740; it was produced to celebrate 60 years of the reign of Queen Elizabeth.
A special feature of the bed is its round curtain embroidered by more than 2,500 km of silk fiber by artisans of luxury brand Hermes. The first bed was sold to a Chinese person.
An built a new big house to place this expensive bed and people can come to see it for free.
According to Le An, he paid more than $184,000 for the bed and transport cost, not including value added tax and import tax.
The bed was produced in more than three months and transported by air to Vietnam. The manufacturer sent UK artisans to Vietnam to assemble the bed in two days and the warranty for this product is up to 25 years.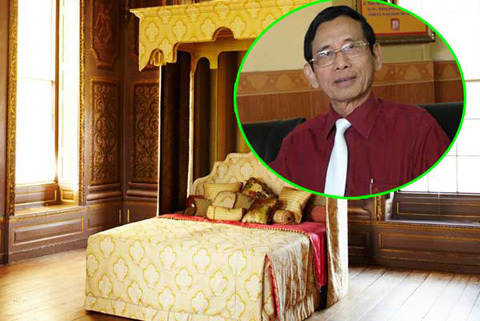 Tycoon Le An and his bed.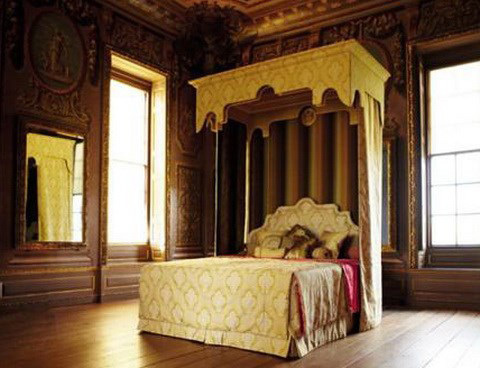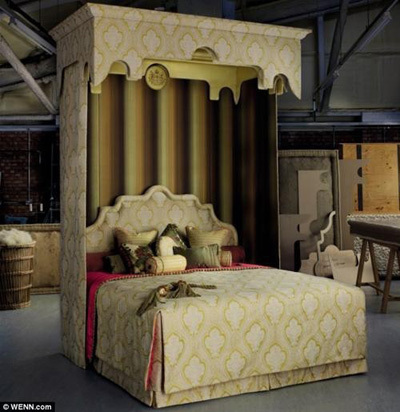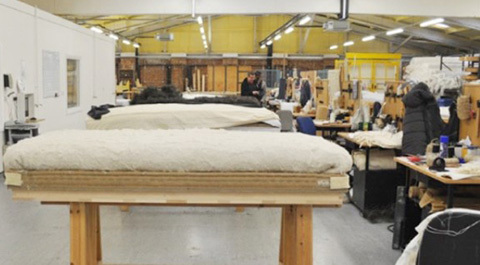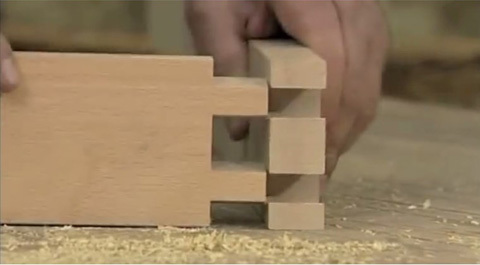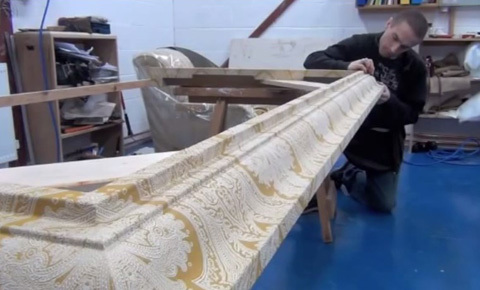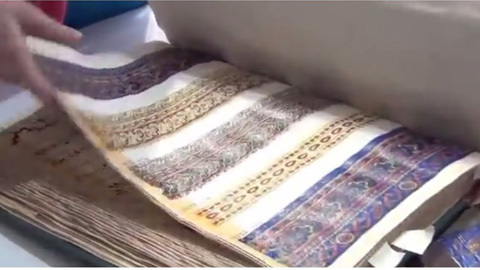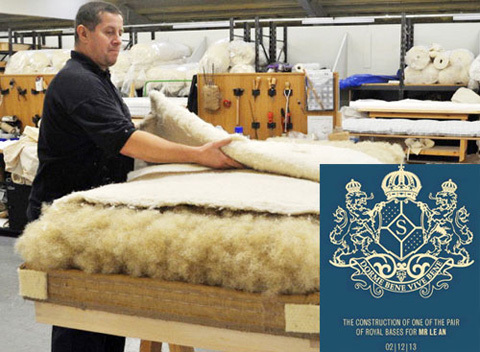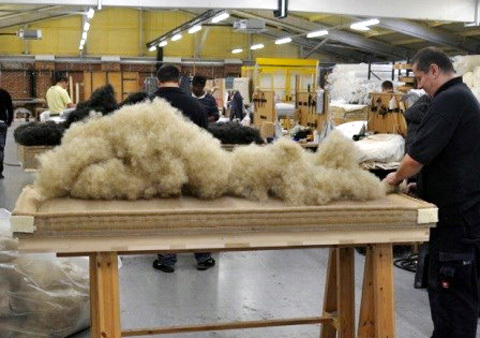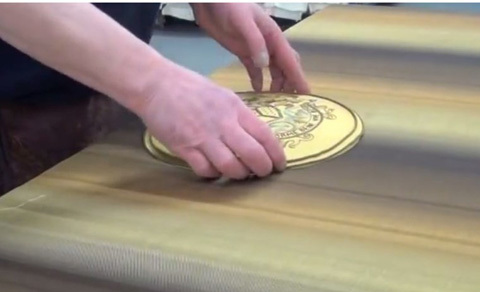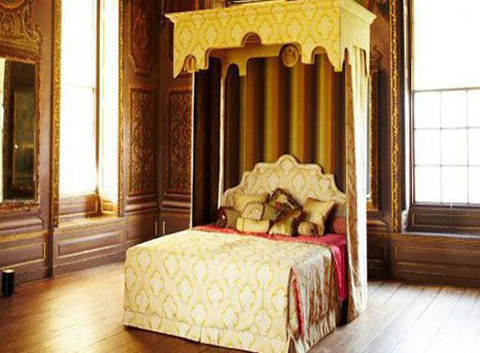 2. The $350,000 bed of the Prince of Bac Lieu
The most expensive bed in Vietnam belongs to Mr. Nguyen Minh Hung, 58, in Bac Lieu Province, who owns about 3,000 antiques worth more than VND100 billion ($5 million), including five beds previously owned by the Prince of Bac Lieu (the legendary rich playboy who lived in southern Vietnam in the early 1900s), which are worth VND7 billion ($350,000)/bed.
These beds were made of sua wood, about 300 years old and have a length 2.5m and a width of 2m. The front and the back, from top to bottom, of the bed are carved with delicate mother of pearl motifs.
The surface of the beds is covered with Yunnan (China) marble, giving a cool feeling for users.
According to many artisans, to make each bed, it needs up to 30kg of mother of pearl snails, which is priced VND200 million ($10,000) per kilo, totaling VND6 billion ($300,000) for snails only.
Hung said many antique collectors and representatives of premium resorts in Vietnam offered from $300,000 to $350,000 for each bed but he did not want to sell them.
3. $500,000 beds of a Buddhist temple
Sa Lon or Chen Kieu Pagoda in the Mekong Delta province of Soc Trang owns two special beds, which also belonged to the family of the Prince of Bac Lieu in the past. The pagoda bought these beds in the 1950s.
These beds are similar to the five beds of Mr. Hung but they give a different feeling for the users; one is hot and one is cool.
This difference is due to the surface; the hot bed is covered by three pieces of sandalwood. The bed is used in the rainy season. The other bed is covered with large pieces of marble and is used in the hot summer.
Some people asked to buy the two beds, with VND10 billion ($500,000) each, but the pagoda did not sell them.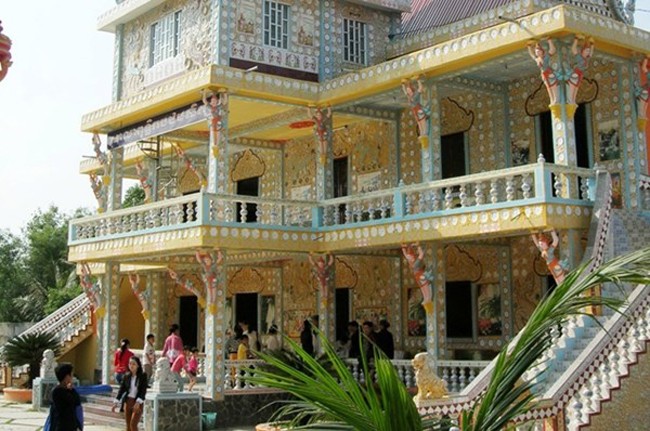 Chen Kieu pagoda.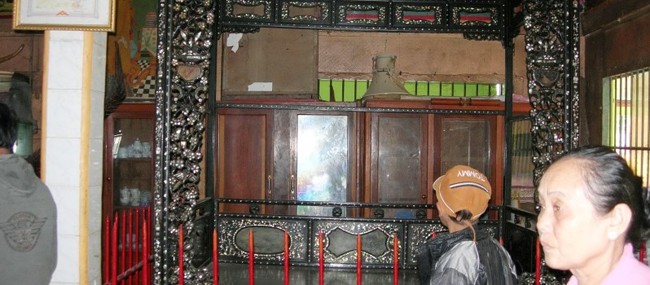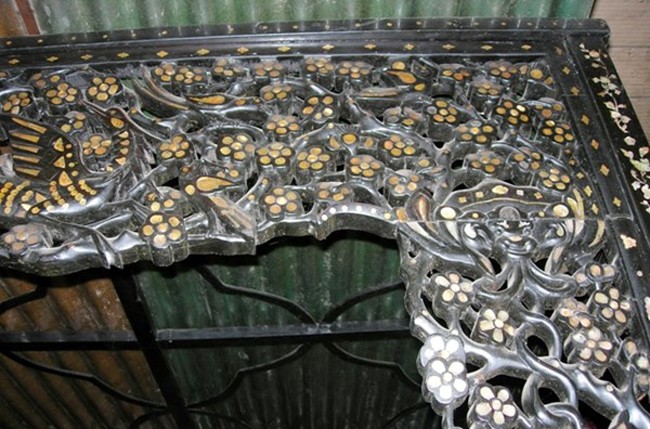 The expensive bed.
4. "Princess' bed" of tycoon in Bac Ninh
This bed was previously used by a princess. This is an ancient bed which is big as and decorated like a miniature palace.
The bed surface is covered by a monolith piece of marble. The headboard is carved with sophisticated motifs and patterns that were only for patricians.
The bed frame was also made of monolith pieces of wood blinds. This is the only one bed of its kind in Vietnam.
5. The $250,000 bed of a drug trader
A drug trader named Trang A Tang owned a sua wood bed worth up to $250,000, one of the most expensive beds in Vietnam.
The bed was imported from China. It is decorated with gems, silver and dedicated motif.
The bed became known after the drug trader was arrested and his house, an expensive apartment in Vietnam's tallest building - the Keangnam Landmark 72 in Hanoi,was searched by the police.
6. $17,000 gold-plated bed in Saigon
A furniture manufacturer in HCM City learned about gold-plated technology from abroad to produce luxury furniture with the Western classic-style in Vietnam. One of the most expensive products of this firm is a gold inlaid Italian-style bed worth VND350 million ($17,000).
This bed is handmade, said the firm's directorMr. Huu Cuong. All materials are imported from Germany and Italy.
Linh Nhat