VietNamNet Bridge - Four days after falling from an apartment on the 10th floor, a four-year-old boy in District 5, Ho Chi Minh City, can still run around and play.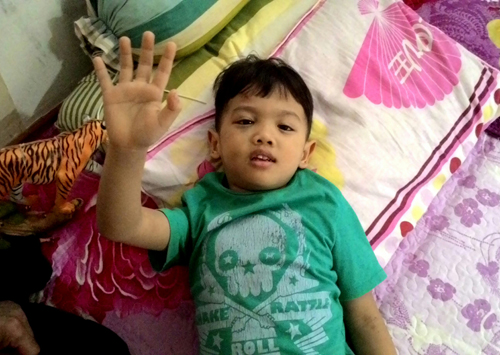 The boy at home after the accident.
On the morning of October 29, just a day after being discharged from from hospital, Dang Gia Nam looked just like any other boy at his Nguyen Bieu apartment block. According to the family, he could sleep well, eat and play as he was before the accident.
"We could not believe that he could recover so quickly after the fall," Mrs. Bui Thi Thoa, Nam's grandmother, said.
Thoa said on October 25 Nam's parents went to the office as usual while Thoa stayed at home with the boy. At around 11am she began cooking in the kitchen and left the boy in the living room. A short time later she called the boy but he did not answer.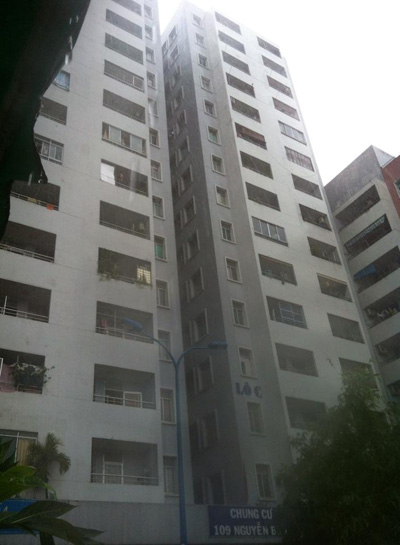 The building where the incident occured.
"I frantically looked for him at the apartment stairs but I did not see him. Just then someone shouted downstairs that he fell to the ground. At that moment I saw a plastic chair close to the banister. Perhaps the boy used it to climb up to the banister," she said.
Ms. Hoa, who lives on the 3rd floor, said while doing housework, she heard a noise as if someone was throwing a trash bag from the top. "Then I heard people talking below. Looking down, I saw many people standing around Nam," she recalled.
Another witness said the boy fell down when he stood nearby. "I heard a loud thud. Turning back, I saw the baby lying in the vegetable garden of a household on the first floor. Initially the boy was motionless on his side. A few minutes later he cried and looked of sound mind. Then his grandmother came," he said.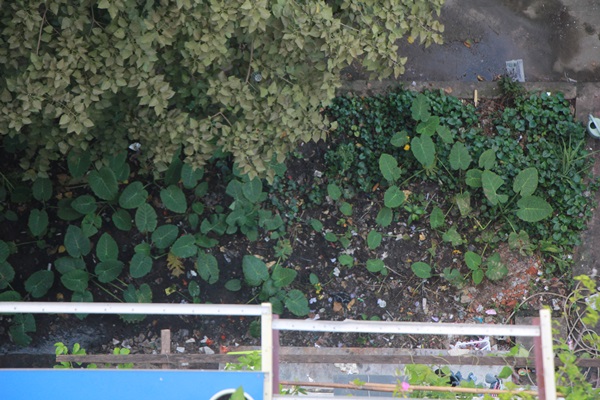 The site where the boy fell down.
"I thought he was delirious. When he was taken into a cab, he kept crying. Not just me, but the people who witnessed the incident could not believe that he could be still alive after falling from the 10th floor," Mrs. Thoa said.
Doctors at Cho Ray Hospital were amazed because the diagnosis showed that the boy had only several external bruises on his face.
On October 28, after nearly three days in the hospital, the boy was allowed to leave the hospital because he did not show any abnormal signs.
The banister of the apartment is nearly 1.4m high, which is safe for children.
Le Ha