VietNamNet Bridge – The authority of Cam My District in Dong Nai Province has recognized a 104-year-old woman for her bravery in stopping a man from stealing money from her.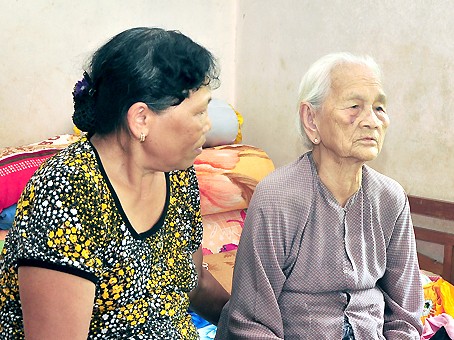 Mrs. Bai and her daughter.

On June 29, Mrs. Vo Thi Bai, 104, hired a young man named Vu Van Tu, 22, to work in her field. At 9.30am Tu borrowed Mrs. Bai VND50,000 ($2.5). While taking the money from her purse, she carelessly let the young man see a bunch of VND50,000 banknotes in the bag.
At 3.30pm on the same day, while Mrs. Bai was sleeping, Tu entered the house by the back door and approached the bed to take her bag. The man used a blanket to cover the woman's face, used one hand to press her to the bed and the other hand to snatch her purse.
"I was sleeping when I felt painful and woke up. I saw Tu was holding my purse. I immediately jumped up and held his arm and asked him why he took my money. He argued that he did not take my money, but how could I let him go because my money was still in his hand. The amount was up to VND900,000 ($45). As I did not release his arm, he pulled me to the door and punched me in my left eye," Mrs. Bai recalled.
While holding Tu's arm, she shouted loudly. Hearing her voice, some neighbors flocked to help. At the scene they saw Tu was trying to escape from Mrs. Bai's arms while the woman was trying to shout "robber, robber".
"At this age, I'm not afraid of the death but my children gave me money to buy food and pay the power bill. If the money had been taken, I would not have had money to pay for these things. That's why I tried to hold his arms despite his punches and kicks. I was born in Long An province. I'm a farmer, so I'm very strong!" she said.
Le Ha