The Vietnamese community in Europe has called on Germany, as the rotating President of the G20, to add the East Sea issue to the agenda of the G20 Summit slated for July 7-8 in Hamburg, Germany.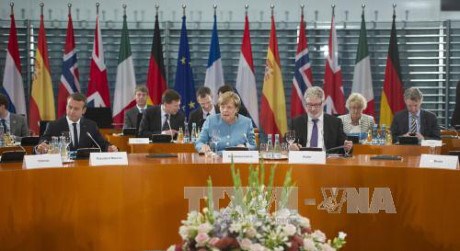 German Chancellor Angela Merkel (C, front) at a preparatory meeting for G20 Summit in Berlin on June 29
The recommendation was mentioned in a letter of petition addressed to German Chancellor Angela Merkel, which was signed in Berlin on June 29 by representatives of associations of Vietnamese and Vietnamese businesses in Germany, Austria, Poland and the Czech Republic. 
At the signing ceremony, many overseas Vietnamese said they are proud to join hands with their compatriots at home to protect national sovereignty and condemn militarisation and violations of international law. 
They said amidst the recent complex situation in the East Sea, the inclusion of the issue in the G20 Summit agenda and in its joint statement will be significant to maritime security and safety in the waters. 
The letter, written in German, is expected to be handed over to Chancellor Angela Merkel on June 30. 
The G20 Summit is set to touch upon many important global matters like free trade, climate change, digital technology, migration crisis, conflicts in Syria and tensions on the Korean peninsula.
VNA