A seminar, themed "East Sea: the Philippines, ASEAN and international partners", took place in Manila, the capital city of the Philippines on April 25.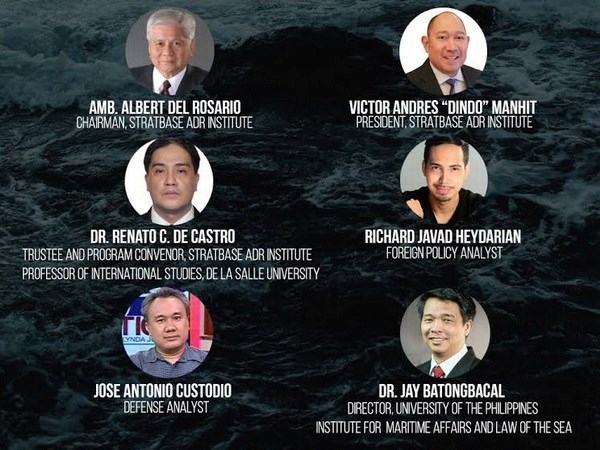 Speakers at the event
Organised by the Stratbase ADR Institute for Strategic and International Studies (ADRI) in the lead-up to the 30th ASEAN Summit, the event touched upon recent developments in the East Sea, including international cooperation in the settlement of the East Sea issue and opportunities and challenges in enforcing the Permanent Court of Arbitration (PCA)'s ruling. 
Participants also discussed issues in the Philippines' external policy, including geopolitics, military, maritime science, international law, and external relations with Southeast Asia, China and other countries. 
Speaking at the event, ADRI President Dindo Manhit called on ASEAN member states to stay united to settle the East Sea issue in line with international law, including the 1982 United Nations Convention on the Law of the Sea. 
As Chair of ASEAN 2017, the Philippines needs to work with other ASEAN countries and partners to accelerate the formulation of a Code of Conduct in the East Sea, he said, adding that the Philippine government must affirm the importance of the PCA's ruling. 
Agreeing with the ADRI President, former Filipino Secretary of Foreign Affairs Del Rosario protested China's militarisation, construction and renovation of islets that has caused tension in the region.
He urged ASEAN and international community to use international law, including principles in the PCA's ruling, in external relations and settling disputes in the region, including the East Sea issue.
VNA