VietNamNet Bridge - In 2014, the East Sea, internationally known as the South China Sea, became a hot spot in Southeast Asia, and Asia in general, with concern and anxiety among the international community over China's placement of the drilling rig HYSY 981 inside Vietnam's continental shelf and exclusive economic zone, encroaching on the sovereignty and jurisdiction of Vietnam as established in the UN Convention on the Law of the Sea.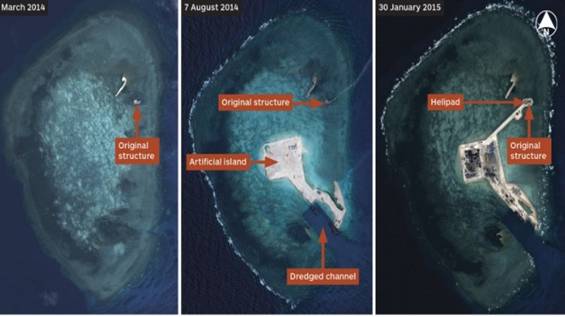 These pictures were taken on 30/3/2014, 7/8/2014 and 30/1/2015, showing that China reclaimed Gaven Reef in Vietnam's Truong Sa Archipelago.
Along with that unilateral move, China took pressing actions to transform, reclaim and expand the islands and reefs it had seized in the Truong Sa (Spratly) Archipelago, which is under Vietnam's sovereignty; and built large-scale facilities, and legalized its governance over Vietnam's Hoang Sa (Paracel) Archipelago, which China had occupied by armed force. This has led to a new regional security context, threatening countries in the region, including Vietnam.
On site, the latest satellite images show the increasingly intensive land filling operations of Chinese dredgers and the deployment of motorized artillery pieces at Truong Sa. By the end of June 2015, the total acreage China had expanded in seven reefs has amounted to over 1,200 hectares, with over 1,100 hectares in Chu Thap (Fiery Cross), Xu Bi (Subi) and Vanh Khan (Mischief) Reefs.
Tension in the East Sea has grown more complicated and serious this year, and the local landscape has changed.
China's unilateral moves driven by irrational sovereignty ambitions have infringed upon the sovereignty, sovereign rights and jurisdiction of coastal countries, violated international law, and run counter to the Declaration on the Conduct of Parties in East Sea (DOC).
They have gravely challenged peace, security, stability and freedom of navigation in and overflight above the region, and increased the risk of extensive confrontation, clashes and conflicts in the East Sea. The challenges and risks are unpredictable!
The recent rapid developments prove that the East Sea issue is not just a regional matter, but has attracted the concern of the international community as a whole.
At the ASEAN Summit in Malaysia in April 2015, ASEAN leaders expressed concern on the land reclamation undertaken in the East Sea, which has eroded trust and confidence, and threatened peace, security and stability in the East Sea.
During his official visit to Vietnam (22-23 May 2015), United Nations Secretary General Ban Ki Moon expressed concern over escalating tension in the East Sea; called on all parties concerned to resolve their disputes by peaceful means in conformity with international law, including the United Nations Charter; and asserted it was important to avoid actions that would provoke or exacerbate tension.
The G7 Summit in Germany, in its Leaders' Declaration issued on 8 June, strongly opposed any unilateral actions that seek to change the status quo in the East Sea, while underlining the importance of peaceful dispute settlement as well as free and unimpeded lawful use of the world's oceans.
At the trilateral dialogue between India, Australia and Japan in India on June 8, participants noted that it was the pace and the scale of China's reclamation which was causing anxiety in the region.
At the U.S.-China Strategic Economic Dialogue on 23 June, U.S. Vice-President Joe Biden emphasized that responsible partners should adhere to international law and work together to keep international sea lanes open for unimpaired commerce; and that nations that disregard diplomacy and use coercion and intimidation to settle disputes or turn a blind eye to aggression of others only invite instability.
On 11 June, Australian Foreign Minister Julie Bishop reiterated the position that Australia would object if China made a unilateral claim of an air defense identification zone over the East Sea, and that it was concerned that any unilateral action in the region could raise tensions and ultimately end in some form of conflict.
Amidst constantly sharpening tensions in the East Sea, there have been statements and comments from China and elsewhere touching upon the possibility of conflict or war. In various countries, street demonstrations have broken out against the Chinese moves.
On 16 June, the Chinese Foreign Ministry said in a press announcement that it would complete some of its land reclamation on Truong Sa islands and reefs as planned within days.
On 30 June, Chinese Foreign Ministry spokesperson Hua Chunying announced that the land reclamation project of China's construction on some stationed islands and reefs of the Trường Sa islands had been completed recently, and that at the next stage, the Chinese side would start the building of facilities to meet relevant requirements, civilian and military alike. This was also asserted by Chinese Foreign Ministry spokesperson Lu Kang.
The international public has responded to China's new moves. Many countries have expressed profound and serious concern over China's unilateral attempts to change the status quo, which had exacerbated tension. Not only has the militarization of facilities built by China on reclaimed islands not helped reduce tensions, it has in fact caused the opposite effect.
Various comments have been made by analysts. Some described the announcement as a way for China to placate public opinion that China's construction of facilities was aimed at putting other parties before a fait accompli, and that such an attempt could never be accepted by the world community. In essence, China has given priority to military rather than civilian purposes, and this has unveiled its intention for exclusive control of the East Sea.
Vietnam has on different occasions protested against China's moves in the Truong Sa Archipelago.
On 25 June, the Vietnamese Foreign Ministry spokesperson Le Hai Binh declared: "China's large-scale construction and reclamation of islands and reefs in the Truong Sa Archipelago are illegal and cannot change the fact that Vietnam has sufficient legal ground and historical evidence confirming its national sovereignty over the Truong Sa Archipelago. Vietnam asks China to stop immediately these activities, respect Vietnam's sovereignty over Truong Sa and Hoang Sa, comply with international law, especially the 1982 UN Convention on the Law of the Sea and the DOC, and refrain from actions that may complicate the situation or change the status quo in the East Sea."  
Vietnam's position on the East Sea issue has been clearly expressed at the United Nations.
What has been happening in the East Sea region has confronted the people of different countries with a very serious problem that requires maximum and urgent efforts toward maintaining regional and world peace and security, preventing conflict and war, and ensuring respect for international law.
The Vietnam Peace and Development Foundation calls on the international community to raise further its voice, asking that China end immediately its extremely dangerous moves in the East Sea.
VPDF