A copy of imperial records of the Nguyen Dynasty asserting Vietnam's sovereignty over Hoang Sa (Paracel) and Truong Sa (Spratly) archipelagos has been donated to the Foreign Ministry's National Boundary Commission by cultural researcher Ho Tan Phan.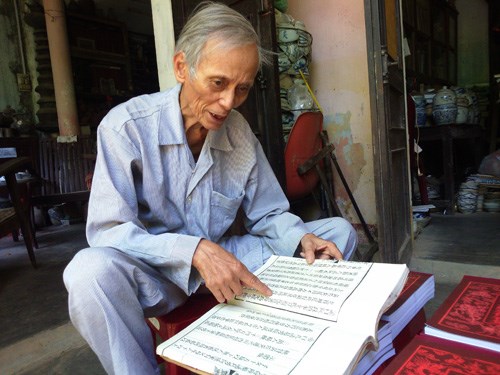 Mr. Ho Tan Phan and the valuable document.
The documents report the Nguyen Dynasty's activities to exploit natural resources on the two archipelagos as well as their surveys and landmark planting there.
The copy of imperial records called "Royal Annals of Dai Nam" was collected and published by Japan's Keio University.
The annals were originally compiled by the court's historiography office between 1821 and 1939. However; only first part of the chronology from King Gia Long to King Dong Khanh, were engraved into wooden prints, while the rest were hand-written in six copies for preservation.
The records were lost during the war time.
Since 1961, Keio University researched, collected, photocopied the annals and published documents into 20 volumes with 8,181 pages.
Phan highlighted that thanks to concerted efforts made by the Japanese university, Royal Annals were restored and serve as valuable evidence of Vietnam's sovereignty of Truong Sa and Hoang Sa archipelagos.
Throughout the annals, Japanese researchers and the international public are able to gain a deeper understanding about Vietnamese history from 16th century to the of the 20th century, he added.
VNA