Regional leaders to attend MRC summit in Vietnam
Leaders of Cambodia, Laos and Thailand will attend the second Mekong River Commission (MRC) Summit in Ho Chi Minh City on April 5.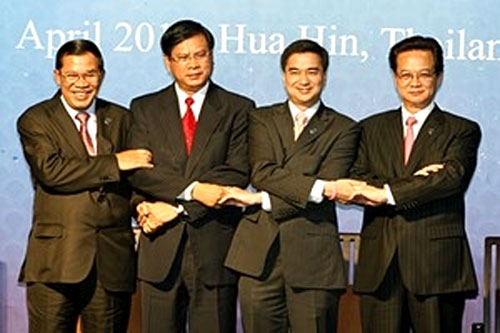 From left to right: Prime Ministers of Cambodia, Laos, Thailand and Vietnam at the 1st Mekong River Commission Summit.-- Photo: VNA
In attendance will be Cambodian Prime Minister Samdech Hun Sen, Lao PM Thongsing Thammavong, and Thai Deputy PM and Foreign Minister Surapong Tovichakchaikul at the invitation of Prime Minister Nguyen Tan Dung.
Themed "Cooperation for Water, Energy and Food Security in Transboundary Basins under a Changing Climate", the summit aims to strengthen a commitment to cross-border cooperation in the sustainable development of water and other resources of the Mekong River.
The first MRC Summit was held in Hua Hin, Thailand in 2010 to mark the 15th anniversary of the Agreement on Cooperation for the Sustainable Development of the Mekong River Basin (1995 Mekong Agreement).
UN praises Vietnam for MDG achievements
Vietnam has made commendable achievement in realizing Millennium Development Goals (MDGs), most notably in gender equality and poverty reduction, said United Nations Under-Secretary-General Phumzile Mlambo-Ngcuka.
The UN official made the plaudit during a reception hosted by Deputy Prime Minister and Foreign Minister Pham Binh Minh in Hanoi on March 31.
Phumzile Mlambo-Ngcuka, who is also Executive Director of UN for Gender Equality and the Empowerment of Women (UN Women), emphasized that social welfare is one of major concerns by many countries, and Vietnam has valuable experience to share in this field.
She said she hopes that Vietnam will continue providing support and fostering cooperation with UN agencies, including UN Women.
Deputy PM Minh  expressed his appreciation for the UN's assistance for Vietnam over the past time, noting that gender equality is highly regulated in Vietnam and that at present, the country is furtherinstitutionalising it in the legal system.
Vietnam is actively implementing action programmes to ensure gender equality and protect the rights of women and girls which is demonstrated by the increasing involvement of women in the political system and other senior positions, he noted.
Vietnam vows to effectively use WB aid
Vietnam sincerely appreciates the invaluable assistance the World Bank (WB) has provided in bolstering the national development process, has said Deputy Prime Minister Vu Van Ninh.
At a March 31 reception for visiting WB Vice President for East Asia and Pacific Axel van Trotsenburg in Hanoi, Ninh noted that the country is one of the largest recipients of preferential loans from the WB.
Ninh welcomed the WB official's return after his most recent visit to Vietnam in May 2013 while calling for more continued support from his organization, especially when Vietnam is in need of huge financial sources to implement its overall plan on economic restructuring.
For his part, the WB Vice President informed his host about the working results with local officials and the main purpose of his current visit to Vietnam.
He expressed his hope that the Vietnamese Government will continue utilizing WB aid effectively in its national development process in the future.
Vietnam, Algeria hold second political consultation
The second political consultation between Vietnam and Algeria was organised in Algiers capital city on March 30.
The event was co-chaired by Vietnamese Deputy Foreign Minister Nguyen Phuong Nga and Secretary General of the Algerian Foreign Ministry Abdelhamid Senouci Bereksi.
The two sides briefed each other on their respective countries' political and socio-economic situation and discussed measures to boost bilateral collaboration.
They agreed to increase delegation and people-to-people exchanges and expand contact between their businesses.
Both sides stressed the need to push forward the implementation of agreements signed during the 10th meeting of the two countries' inter-governmental committee in Hanoi in January in order to further cooperation in security, trade, investment, education, culture and tourism.
In discussing regional and global issues of mutual concerns, the two sides saw eye to eye on the need to support each other at international forums.
During her stay in Algeria, Deputy Foreign Minister Nga also paid a courtesy visit to Algerian Foreign Minister Lamtane Lamamra and had a working session with Secretary General of the Ministry of Industrial Development and Investment Promotion E.H.Makboul.
The Algerian FM affirmed that Algeria prioritises enhancing ties with Vietnam.
He also stressed the importance of the two countries' connections at international forums, including the United Nations, the Non-Aligned Movement and the South-South Cooperation.
For her part, Nga confirmed that in its foreign policies, Vietnam always treasures its ties with its traditional partners in Africa, including Algeria.
Deputy PM welcomes World Bank Vice President Axel Van Trotsenburg
Deputy Prime Minister Vu Van Ninh held a reception for World Bank Vice President Axel Van Trotsenburg, who is on a working visit to Viet Nam, in Ha Noi yesterday, March 31.
Deputy PM Ninh thanked the guest for his assistance to Viet Nam, especially when it came to the approval of World Bank programmes and projects and the mobilisation of loans under concessional terms.
He hoped the World Bank would continue to help Viet Nam carry out socio-economic development plans, adding that the country would make effective use of the aid.
Trotsenburg said Viet Nam was an active and responsible country, as evidenced by its dynamic participation in World Bank policy dialogues. He pledged that the bank would always support Viet Nam in fields the country needed to enhance people's well being.
Deputy PM meets Harvard Viet Nam Programme advisor
Deputy Prime Minister Nguyen Xuan Phuc received Professor Thomas Vallely, advisor of Harvard's Viet Nam Programme, in Ha Noi yesterday, March 31. He expressed hope that Vallely would continue helping to consolidate Viet Nam -US co-operation, especially in education.
He hailed the contributions of Prof. Vallely as well as the staff of the Viet Nam Executive Leadership Programme (VELP), a collaborative initiative of the Vietnamese Government, the United Nations Development Programme and the Viet Nam Programme at Harvard's Kennedy School.
The VELP has created a forum for Vietnamese senior policymakers as well as business leaders to hold dialogues based on a foundation of practical research on policy challenges that Viet Nam and the world face, he said.
Professor Vallely spoke highly of Viet Nam's efforts to preserve cultural values as well as the country's socio-economic development over the past years.
He said he would try his best to enhance the quality of Vietnamese teaching at US universities, contributing to boosting education partnerships between the two countries.
Launched in 1988, the Viet Nam Programme aims to study Viet Nam's socio-economic development using a multifaceted approach that combines research, teaching and policy analysis.
Deputy PM bids farewell to Chinese ambassador
Deputy Prime Minister cum Foreign Minister Pham Binh Minh hosted a March 31 reception for Chinese ambassador Kong Xuanyou who came to say goodbye at the end of his term in Vietnam.
Minh expressed his satisfaction with the constant development of the Vietnam-China comprehensive strategic partnership over the years and commended the Chinese diplomat's positive contributions to consolidating bilateral ties.
Kong Xuanyou thanked Vietnam for its great assistance and close coordination that helped him fulfill his tasks and pledged his tireless efforts to further strengthen ties between the two nations no matter his future position.
Committee discusses judiciary structure
The Central Steering Committee for Judicial Reform held a conference to discuss the revised draft laws on the Organisation of the People's Court and the People's Procuracy in Ha Noi yesterday, March 31.
President Truong Tan Sang, who is the head of the committee, presided over the hearing, where participants put an emphasis on reforming the organisation and activities of the Supreme People's Court and provincial and regional People's Courts.
Discussions on the organisation of People's Procuracies at all levels and reforming the organisation and operations of military judicial bodies were the main focus of the conference.
Concluding the session, President Sang stated that the projects and draft laws followed the 11th National Party Congress and recently revised constitutional regulations related to judicial reform.
He instructed the agencies in charge of preparing the projects and draft laws to listen to opinions from committee members in order to underpin the draft laws with sound and scientific arguments.
New matters emerging during the preparations must be researched and scrutinised on the basis of the policies of the Party and regulations outlined in the constitution.
The draft laws should be ready for submission to the National Assembly at its upcoming 7th session scheduled for May, he added.
NA Chairman works with Government Inspectorate
National Assembly (NA) Chairman Nguyen Sinh Hung has asked the Government Inspectorate to improve capacity and operational efficiency so as to bring the revised Constitution to life.
At a March 31 working session with key leaders from the inspection sector in Hanoi, the NA leader heard a report on the results of inspection work from 2011-2013 and orientations and tasks for 2014-2015.
According to Government General Inspector Huynh Phong Tranh, hundreds of thousands of administrative and professional inspections were conducted over the past two years, uncovering the misuse of more than VND100,000 billion and nearly  297,000 hectares of land.
The sector imposed disciplinary penalties on nearly 4,000 collectives and 7,000 individuals, transferred 214 cases to the investigation agency and dealt with a spate of letters of petition and suspected corrupt practices.
However, Tranh pointed out shortcomings and limitations such as slow settlement of complaints and denunciations and a lack of inspection forces at grassroots level in the context of increasingly complex corruption in many sectors.
The top legislator underlined the need for the sector to work hand in hand with the people to handle their complaints in a timely manner to bring justice to them.
VNN/VOV/VNS/VNA