The European Union (EU) hopes to sign a free trade agreement (FTA) with Viet Nam as early as by late 2014, said European Commission Vice President Antonio Tajani.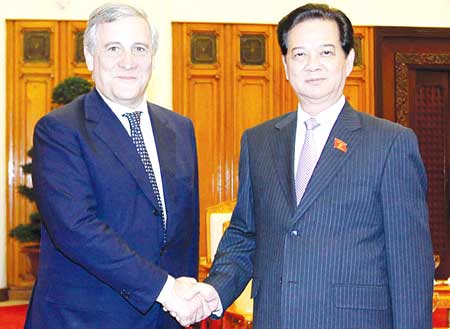 Prime Minister Nguyen Tan Dung (right) receives European Commission Vice President Antonio Tajani yesterday in Ha Noi. 
Mr. Antonio Tajani made the point on November 13 in Ha Noi while meeting with PM Nguyen Tan Dung during his overseas trip to seek business opportunities with Viet Nam.
Viet Nam,said PM Dung,  was delighted at the developments in the bilateral ties in which two-way trade progressed rapidly, reaching over US$ 29 billion in 2012 and is expected to register a 15% rise in 2013. The EU is also one of the largest investors in Viet Nam with total registered capital of US$ 32 billion.  
"Viet Nam hopes to shake hands with the EU in all aspects particularly economics, trade, investment, tourism and ODA," said PM Dung.
According to the host leader, the Vietnamese Government welcomes and promises to support European enterprises and investors including small and medium-sized ones to do long-term and profitable business in Viet Nam.
PM Dung took the occasion to seek the EC's assistance for the early signing of the Partnership and Cooperation Agreement (PCA) and the Free Trade Agreement (FTA) in 2014. These documents are expected to create a crucial legal framework and provide favorable conditions for businesses to penetrate into respective markets and beef up economic, trade, investment, tourism linkages.  
Finally, the Government chief proposed the EU early recognize Viet Nam as a market economy and continue providing ODA for the recipient country at a high level.
Mr. Antonio Tajani revealed that the EC delegation is consisted of 40 leading enterprises which want to promote and expand cooperation with Viet Nam in the areas of trade, investment and tourism.
The EU, said the Vice President, hopes to strengthen linkages among SMEs of the two sides in such areas as agricultural processing, tourism, chemicals, and cosmetics industry in the following years and stands ready to work with Viet Nam in the space field, particularly disaster forecast and warning.
Business interest
He said interest from European enterprises in Viet Nam is growing while meeting with Minister of Industry and Trade Vu Huy Hoang yesterday.
The meeting also attracted around 50 companies from the European Union (EU) looking for business opportunities to emerge from the Viet Nam – EU free trade agreement.
Viet Nam was an important destination in Southeast Asia for investments from the EU, Tajani said, stressing that bilateral trade had seen strong growth in past years.
Trade turnover between Viet Nam and the EU is expected to reach US$33 billion this year.
Hoang expressed optimism that the relationship between Viet Nam and the EU achieve new heights.
According to statistics from Viet Nam's customs agency, in the first nine months of this year, bilateral trade exceeded $24.8 billion, representing a rise of 20.8 per cent year-on-year, of which, $17.8 billion came from the Viet Nam's exports to the EU.
Currently, 23 out of 28 EU members have investment projects in Viet Nam. More than 1,800 existing investment projects have a total registered capital of over $32.8 billion with a disbursed amount reaching $13.101 billion.
VN, EU vow co-operation
Yesterday, a letter of intent between the European Union (EU) and Viet Nam on co-operation in sustainable tourism was signed between Tajani and Vietnamese Minister of Culture, Sports and Tourism Hoang Tuan Anh.
Through the letter, the EU and Viet Nam aim to work jointly towards the establishment of periodic dialogue and information exchange on respective initiatives in the field of tourism to ensure development of sustainability and competitiveness.
It will also promote exchanges of good practices in the development of sustainable tourism among tourism authorities and main stakeholders, notably in natural and cultural heritage preservation and promotion, small and medium-size enterprises, training, plus the improvement of tourism service quality.
The rapid development of Viet Nam's tourism sector - with a recent increase of 10.4 per cent and over 6 million foreign visitors for the year up to October 2013 - has brought substantial socio-economic developments to Vietnamese citizens. It helped establish the country as a well-recognised and important tourism destination.
To ensure continued growth and benefits in future, the sector must now focus on sustainability.
To this end, the EU is supporting Viet Nam's Ministry of Culture, Sports and Tourism and National Administration of Tourism through the Environmentally and Socially Responsible Tourism Capacity Development Programme (ESRT) from 2011-15.
The programme aims to build capacity and strengthen the foundations of the Vietnamese tourism sector for socially and environmentally responsible growth.
So far, the ESRT programme is the largest tourism technical support programme in Viet Nam, funded by 11 million euros ($14.7 million) provided by the EU, and 1.1 million euros ($1.4 million) sourcing from the Vietnamese Government.
Source: VNS/VGP