Vietnam joins UN Convention against Torture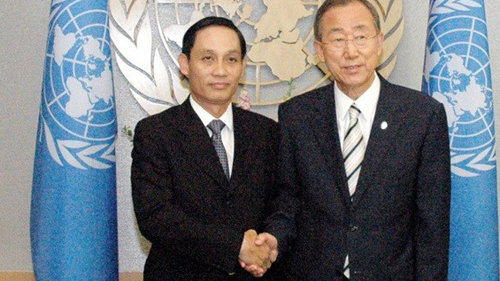 Ambassador Le Hoai Trung, head of Vietnam's Permanent Representative Mission to the United Nations, signed the Convention against Torture and Other Cruel, Inhuman or Degrading Treatment or Punishment in New York on November 7.
The convention is an international human rights document that prevents torture and enhances communications to raise public awareness and develop mechanisms for protecting victims and increasing international cooperation in the field.
Ambassador Trung noted the signing of the convention shows the Vietnamese State's strong commitment to preventing torture and ill-treatment to better fundamental human rights.
The signing is Vietnam's concrete step towards its pro-active international integration, affirming Vietnam is an active and responsible member of the international community, he said.
He said the joining of the convention will help Vietnam perfect its legal system to promote its citizens' fundamental human rights.
The UN Convention against Torture has been ratified by 154 nations since it was approved by the UN General Assembly in December 1984.
Vietnamese, Italian localities strengthen cooperation
Trade and investment cooperation between Vietnamese localities and Italy's Puglia region has made significant progress.
The progress is attributed to Ambassador to Italy Nguyen Hoang Long's visit to the region on November 5-6.
At a meeting with Puglia leaders, ambassador Long said cooperative potential between Vietnamese localities and Puglia is huge. The Italian southern region has high demand for garment, footwear, and agro-forestry products like coffee, pepper, and wood furniture imported from Vietnam while it can export many products like red wine, olive oil and precise manufacturing machinery.
However, businesses from both sides lack market information and have a little chance for direct contact.
The Vietnamese Embassy in Italy and Puglia agreed to to hold a Puglia-Vietnam Business Forum in March 2014 and invite businesses from southern Italy to attend.
They will study the possibility of opening a Vietnamese economic cooperation office in Puglia to provide timely support for two business communities.
To promote cultural exchange, Vietnam Days will be held in Puglia in mid March 2014 in Bari and Lecce cities.
Puglia is strong in engineering industry, high-technology (automobile, space, information technology, chemicals and biotechnology) and agricultural products (olive oil and red wine). It has an advanced system of education, especially in basic science and technology.
HCM City commemorates Russian October Revolution
HCM City's Vietnam-Russia Friendship Association President Nguyen Huu Thanh highlighted the enduring significance of Russia's October Revolution to Vietnamese history at a November 7 meeting marking its 96th anniversary.
Thanh described the revolution as forming the foundation of the two nations' valuable friendship and sustaining it through history's ups and downs.
Vietnam and Russia closely coordinate on international issues and actively cooperate in economics, energy, diplomacy, defence, culture, and education and training.
They aim to raise bilateral trade value to US$5 billion by 2015 and US$15 billion by 2020.
Thanh said HCM City is working to formally link itself in cooperation and friendship with Russian localities such as Moscow, Saint Petersburg, and Sverdlovsk.
Russian Consul General Anatoly Vassilievich Borovik emphasised that despite changes in the two countries, Vietnam and Russia still maintain their traditions of mutual understanding, trust, and solidarity.
Borovik said leader dialogues are propelling the relationship's ongoing dynamic development.
He expressed his delight at the increasing numbers of Russian tourists visiting HCM City and other Vietnamese destinations.
Promoting int'l cooperation for sustainable urban model
The Vietnam Urban Forum (VUF) plays an important role in creating an equal and attractive playground and a bridge between donors, international investors, associations and non-governmental organisations (NGO).
VUF President Trinh Dinh Dung who is Minister of Construction made the statement at a meeting in Hanoi on November 7 to mark VUF's 10th anniversary.
In the coming time, Minister Dung said the forum will focus on issues related to urban development, such as improving the quality of planning, balancing investment capital for urban development, consolidating the VUF's overseas performance, expanding its membership, developing sustainable financial resources and promoting regional and international exchange and cooperation activities.
VUF's co-President Victoria Kwakwa who is World Bank Director in Vietnam said the forum aims to balance social pressure and share knowledge. The WB in Vietnam has actively supported the forum in achieving its long-term and sustainable growth.
Other participants agreed to review the urbanisation process in Vietnam, conduct research and housing programs, exchange experience in urban management and development in response to climate change, develop urban areas in the greater Mekong sub-region economic corridor and strengthening public-private partnership (PPP) in urban development.
On the occasion, the VUF admitted five new members, raising its total membership to 102 and launched an official website.
They praised the VUF for successfully organising many important events at home and abroad and significantly contributing to the World Urban Forum's activities.
At the proposal of the Consultative Group Meeting in December 2000, the VUF was established on October 22, 2003 as a coordinator for the Government agencies, donors and foreign organisations.
Italy, Vietnam boost audit cooperation
A delegation from the State Audit of Vietnam (SAV) led by its Deputy Chief Nguyen Quang Thanh is on a working visit to Italy from November 5-8.
Thanh paid a courtesy visit to Audit Court President Raffaele Squitieri, and held a working session with Italian auditors on November 6.
The two sides proposed measures to strengthen bilateral cooperation in the future.
The Vietnamese delegation wished to learn Italy's experience in building and implementing annual and medium-term audit plans, especially in the fields of environment, information technology, and construction.
They invited Italian auditors to take part in seminars and training courses in Vietnam, with the aim of carrying out Italy's official development assistance (ODA)-funded projects effectively.
Representatives of Italy's Audit Court pledged to help the SAV in personnel training and technical assistance.
The SAV is an official member of the Asian Organisation of Supreme Audit Institutions (ASOSAI), and one of co-founders of the ASEAN Supreme Audit Institution (ASEAN SAI).
The SAV has made active contributions to the international integration process and signed cooperative documents with more than 30 top audit agencies and prestigious international organizations throughout the world.
Hanoi to host int'l East Sea seminar
The Diplomacy Academy of Vietnam and the Vietnam Lawyers' Association will jointly hold an international seminar on the East Sea in Hanoi on November 11-12.
The event, the fifth of its kind, will bring together more than 200 delegates, including government officials, scholars, and experts from ASEAN member countries, China, Japan, the Republic of Korea, Australia, and the US.
Themed "Cooperation for Regional Security and Development", the seminar helps scholars exchange views and promote mutual understanding of common interest in maintaining peace, stability, security and marine safety in the East Sea.
Delegates will propose measures to strengthen security and cooperation in the region.
Vietnam becomes 81st signatory to UNCAT
Vietnam became the latest country to join the 1984 United Nations Convention against Torture and Other Cruel, Inhuman or Degrading Treatment or Punishment (UNCAT) when Ambassador Le Hoai Trung signed the convention at the United Nations headquarters on November 7.
This makes Vietnam the 81st signatory to the UNCAT.
Speaking after the signing, Ambassador Trung underlined that by becoming a signatory to the UNCAT, Vietnam once again reaffirms its unwavering commitment to prevent all acts of torture and cruel, inhuman or degrading treatment of persons and to better protect and promote fundamental human rights.
Signing the Convention is also a concrete step in Vietnam's proactive and rigorous international integration process and underlines Vietnam's willingness to be an active and responsible member of the international community, he said
The diplomat expressed his belief that this will also be an opportunity for Vietnam to further improve its legal system to better protect and promote human rights in Vietnam.
The UNCAT was adopted by the General Assembly of the United Nations on December 10, 1984. It came into force on June 26, 1987 after it had been ratified by 20 states.
It requires state parties to take effective measures to prevent torture within their borders, and forbids states to transfer people to any country where there is reason to believe they will be tortured.
Namibia President to visit Vietnam
Namibian President Hifikepunye Pohamba will pay an official visit to Vietnam from November 18-20 at the invitation of President Truong Tan Sang.
The visit aims to boost the traditional friendship and cooperation between the two countries in economics, trade, investment, agro-forestry, education, and transportation, according to the Ministry of Foreign Affairs.
The two Presidents will hold high-level talks in Hanoi and witness the signing of a number of cooperation agreements.
President Hifikepunye Pohamba will meet with other Vietnamese leaders and attend a Vietnam-Namibia business forum.
Deputy PM Ninh discusses partnership with Singapore
Singapore, as a strategic partner, would always give top priority to co-operating with Viet Nam, Prime Minister Lee Hsien Loong affirmed, while receiving Deputy Prime Minister Vu Van Ninh yesterday, Nov 7.
During the meeting, the two sides expressed their pleasure at the strong development of the Viet Nam-Singapore relationship with many exchanges of delegations in recent years, bringing practical benefits to the both countries.
They agreed that the official establishment of the bilateral Strategic Partnership during the Singaporean PM's visit to Viet Nam in September was a historic landmark, opening opportunities for both sides to continue expanding and deepening the co-operative ties in all fields from politics, economics, trade, investment, culture to education and training, and people-to-people exchanges.
The two leaders agreed to co-operate closely to successfully realize the Strategic Partnership ties.
Both said they were glad to see the Viet Nam-Singapore Connectivity Framework Agreement was effectively being implemented and the Viet Nam-Singapore Industrial Parks (VSIP) in the three regions of Viet Nam were operating well.
They reached a consensus on selecting suitable locations to multiply the model of the VSIP. Prime Minister Lee Hsien Loong stressed that Singapore would join hands with Viet Nam to lure Singaporean investors to Phu Quoc Island, asking Viet Nam to create favourable conditions, provide information of policies, procedures and land planning during the process of Phu Quoc development.
Ninh said Viet Nam was boosting the reform process, especially in fields of finance, credit, banking and the State-owned sector to improve the economy's competitiveness and satisfy requirements of international integration and development.
Singapore's leader also noted that the finance sector was a field with plenty of scope for co-operation, expressing his wish that Viet Nam would facilitate the expansion of Singapore's financial institutes in Viet Nam.
Discussing regional and international co-operation, Ninh said he appreciated Singapore's positive stand on issues related to peace and stability in the region, including the East Sea issue.
Loong affirmed that Singapore would continue co-operating and supporting Viet Nam in the negotiations for the Trans-Pacific Partnership to ensure it was a satisfactorily equally weighted agreement, bringing benefits to all members, particularly developing countries.
The same day, Ninh had a meeting with S. Iswaran, Singapore's Second Minister for Home Affairs and the Second Minister for Trade and Industry.
The two sides discussed specific measures to bolster the investment and trade ties in the context of the newly formed Strategic Partnership relationship.
Iswaran affirmed that the country would paid attention to joining with Viet Nam in education and training, and would satisfy Viet Nam's specific needs in training management officials and technical workers.
Ninh's four-day visit, which wraps up today, was made at the invitation of Minister for Foreign Affairs and Minister for Law, K. Shanmugam, under the S. R. Nathan Fellowship.
Hanoi seeks UK support to become friendly city
Chairman of the Hanoi People's Committee Nguyen The Thao has called for financial and technical support from the UK to realise its target of becoming a green, modern and friendly city.
At a meeting with President of the Vietnam-UK Network James Keith Chapmen in Hanoi on November 7, Thao said Hanoi is focusing on public transport and relocation of schools and hospitals from the inner city.
The official said the capital city needs more assistance from the UK in building a financial centre.
He cited difficulties and challenges hindering Hanoi's path towards a green, modern and friendly city in the future such as overpopulation that has resulted in the overload of the transport system, schools and hospitals, plus environmental pollution.
He spoke highly of development cooperation between the UK and Vietnam in general and Hanoi in particular in various fields, especially in trade and investment.
James Keith Chapmen said over the past four decades, Vietnam and the UK have borne fruit in many major areas.
On that basis, the two countries are expected to have more opportunities and potential for development cooperation in the coming time.
The UK is willing to support stronger trade ties with the UK and EU as well, he said, adding the UK backs Hanoi's plan to become a green and friendly city.
Vietnam, US discuss intellectual property practice
Enforcement of intellectual property rights is important to economic growth, especially as Vietnam has joined the global playing field.
The view was shared by participants at a round-table discussion on November 7 in Hanoi between the US Embassy, the US Chamber of Commerce and Industry in Vietnam and the Ministry of Science and Technology.
US Ambassador to Vietnam David Shear highlighted the role of policymakers as well as industry experts of both countries in discussing solutions to better the current implementation of IP rights.
Deputy Minister of Science and Technology Tran Quoc Khanh said Vietnam needs expertise and support from countries including the US in perfecting its legal framework to accelerate IP practices, particularly when the country has joined international institutions and is negotiating the Trans-Pacific Partnership agreement.
A firm legal framework and good conditions for the implementation of IP rights remain an attractive factor to foreign investors majoring in technology.
VN donates rice to victims of Cambodian floods
The National Assembly of Viet Nam presented 1,000 tonnes of rice to Cambodian flood victims at a ceremony held in Phnom Penh on Wednesday, Nov 6.
The latest floods took the lives of 80 people and resulted in economic losses of around US$1 billion.
Addressing the ceremony, the Chairman of the Cambodia National Assembly, Heng Samrin, stressed that the aid showed the strong solidarity and friendship offered to Cambodia in difficult times by the Vietnamese State and people.
Vietnamese Ambassador to Cambodia Ngo Anh Dung offered his sympathy to the families of Cambodian victims and expressed his hope that Cambodian people would soon rebuild their communities after the devastation caused by the flooding.
VNN/VOV/VNS/VNA