Ambassador of the People's Democratic Republic of Algeria to Vietnam Cherif Chikhi granted the People's Army Newspaper an exclusive interview about the respects and admirations given to General Vo Nguyen Giap.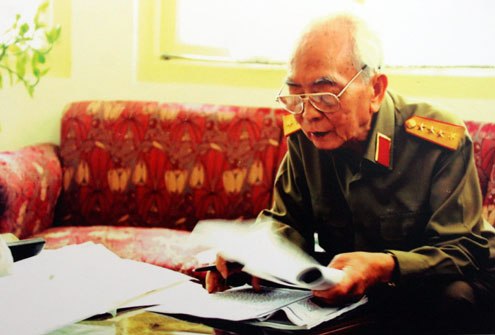 * Could you please share with our readers your feelings and impressions about General Vo Nguyen Giap?
In his message of condolences to President Truong Tan Sang, President Abdelaziz Bouteflika stressed the immense contribution of General Giap to the independence of his country and later to its reunification. He also wrote that beyond the prestige and respect that his victories in the military field awarded him, history will record that his life was devoted entirely to the service of his country and his people.
Coming from a country that has given so much to gain its independence, I always express a feeling of pride by reminding the unfailing friendship and solidarity ties shared by General Giap, the hero universally known, with Algeria.
Personally, I did not have the opportunity and the honor to meet General Giap after my installation in Hanoi, due to his health, but we regularly exchanged messages of wishes on the occasion of the major celebrations in our respective countries.
I of course read a lot about him and his military career long before my arrival in Vietnam. I also followed with attention his meetings with the Algerian leaders, specifically with President Houari Boumediene in January 1976, in Algiers and with President Abdelaziz Bouteflika in October 2000, in Hanoi. I also remember that he was decorated by Algeria of the friendship medal on the occasion of the 50th anniversary of the victory of Dien Bien Phu. The medal was presented to him in Hanoi by our Minister of the "Moudjahidines" (war veterans).
* What did you do and where were you when General Giap visited Algeria in 1976? He made an impressive speech in Algiers to the people of Algeria during his visit. Did you attend this event? Please share with us some of your memories.
In truth, the relations of General Giap with Algeria existed long before this visit. They date from the time of the common struggle for independence. I had the opportunity to mention this episode during the photo exhibition on the Algeria-Vietnam relations which I organised in Hanoi in October 2011. One of the photos shows General Giap receiving the Algerian National Liberation Front football team, in November 21, 1959, in Hanoi.
During his visit to Algeria in January 1976, I was still a student in Algiers. His trip was on everyone's lips long before his arrival. The hero of Dien Bien Phu would soon be in Algeria, we often heard in the streets. It was indeed a remarkable event, given the stature of the general, and his extraordinary relationship with Algeria and the similar fate imposed to our countries.
I had in Vietnam different occasions to remind that the Algerian and Vietnamese peoples share a history full of bravery acts that led each of our countries to regain its sovereignty. The visit was, indeed, reminiscent of so many common memories.
General Giap's statements in Algiers illustrated the indefectible friendship between our two countries and our two peoples and their deep commitment to justice, freedom and peace, values that they still wish to all the peoples of the world.
* What about about sentiments of Algerian people and Africans about General Giap, Mr. Ambassador?
"The name of General Giap will remain forever engraved in the memory of the Algerian people." These words of President Abdelaziz Bouteflika in his message of condolences to his friend President Truong Tan Sang are significant of the deep and the sincere feelings of the Algerian people toward General Giap. The death of this hero has caused a great sadness in Algeria.
"This is a great loss, for you Vietnamese and us Algerians" also wrote President Bouteflika in his message. The number of articles reserved by the Algerian media to this painful event is considerable. All the newspapers paid tribute to the late General Giap and highlighted his exceptional qualities and his dedication to his country.
General Giap enjoys undoubtedly a great admiration throughout Africa, a continent which suffered from colonialism.
VNA