VietNamNet Bridge – The Quang Binh provincial Party Committee held a conference on October 9 to prepare for the memorial services of General Vo Nguyen Giap, which are to be held in the province on October 12 and 13.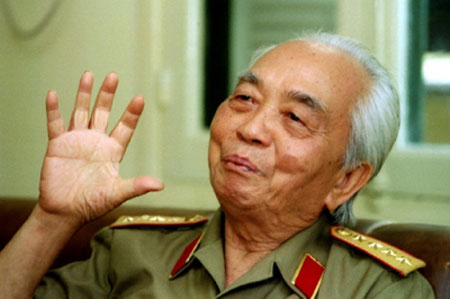 General Vo Nguyen Giap.
The conference assigned detailed jobs and responsibilities for each individual, leader, sector, collective and locality participating in the ceremonies.
Those present at the conference contributed their ideas for the careful and solemn organisation of the services. As tens of thousands of people are expected to attend, the provincial leaders also paid great attention to ensuring that adequate security and safety measures are in place, while creating a suitable environment for mourners to show their respect to the beloved General.
Accordingly, mourners can pay tribute to General Giap from 7:30 am to 8:00 pm on October 12 at the office of the Quang Binh provincial People's Committee. Respects can also be paid during memorial services at the General's Commemoration House in An Xa Hamlet, Loc Thuy Commune, Le Thuy District, which will be held to coincide with the province's ceremonies.
Prior to the conference, attendees observed a minute's silence to pay tribute to the late General, an outstanding son of Quang Binh Province.
The Vietnam Railway Corporation (VRC) has also announced that a special 16-car train has been mobilised to transport equipment for the General's funeral to Quang Binh Province. The train departs from the Song Than Station in Binh Duong Province and is expected to reach the Dong Hoi Station in Quang Binh Province no later than October 11.
Fully aware of the importance of its task, the VRC has equipped all the carriages fully and assigned experienced crew to run the train to ensure its timely arrival. The VRC has also made adjustments to the timetables of other trains to accommodate the journey of this important train.
Hanoi issues traffic safety plan for State funeral
The Hanoi Department of Public Security has announced a plan to ensure traffic safety during the State funeral of General Vo Nguyen Giap.
Accordingly, trucks weighing over one tonne and buses accommodating more than 25 seats are not allowed on certain streets from 6:00 am to 10:00 pm on October 12 and from 6:00 am and 10:00 am on the following day. Those streets are: Ly Thuong Kiet, Tran Hung Dao, Le Thanh Tong, Hai Ba Trung, Lo Duc, Nguyen Cong Tru, Tran Khanh Du, Pho Hue, Le Duan, Ngo Thi Nham, Dai Co Viet and Tran Khat Chan.
The same vehicles are also temporarily prohibited from travelling along Le Thanh Tong, Trang Tien, Hang Bai, Hang Khay, Trang Thi, Dien Bien Phu, Doc Lap, Hoang Van Thu, Hung Vuong, Le Hong Phong, Hoang Dieu, Tran Phu, Le Truc, Son Tay, Kim Ma, Cau Giay and Xuan Thuy.
The city police sector will also establish 150 posts to provide directions, and will assign patrols to prevent traffic jams on streets surrounding the area of the National Morgue at No.5, Tran Thanh Tong Street, Hanoi, where the State funeral is taking place on October 12 and 13.
Source: Nhan Dan