VietNamNet Bridge - Legendary General Vo Nguyen Giap, former Commander-in-Chief of the Vietnam People's Army, was regarded as the 20th century's greatest military talent by many historians and scholars.
Vo Nguyen Giap became the Vietnam People's Army's first general  at the age of 37. He was one of the rare military leaders to earn the admiration and respect of even his ostensible enemies.
Talented General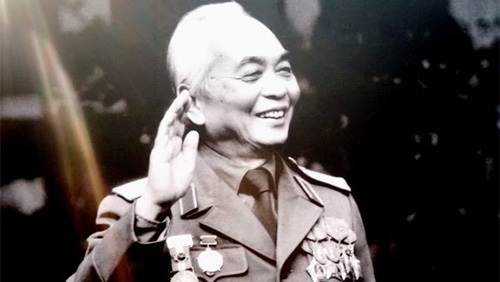 Giap worked as a teacher, a journalist, a historian, and a revolutionary activist, never completing any official military training. His autodidacticism, personal experiences, and combative spirit transformed him into a clear-sighted strategist, a commander-in-chief of great virtue, and Vietnam's leading military organiser during the Ho Chi Minh era.
He was known for his righteousness, generosity, directness, democracy, tolerance, and decisiveness, cited as an international example for all Vietnamese.
Born into a rice farming family, Giap became involved in politics at an early age. President Ho Chi Minh and the Party entrusted him with the task of building the nascent Vietnamese army from its initial primitively equipped 34 member guerrilla force into the elite regiments and brigades responsible for the earth-shaking victory of the Dien Bien Phu campaign.
His leadership and that of the Party and President Ho Chi Minh was instrumental to defeating the French military's most redoubtable fortress.
President Ho Chi Minh once said that along with Bach Dang, Chi Lang, and Dong Da, Dien Bien Phu was a golden milestone marking colonialism's collapse.
The successful Dien Bien Phu campaign triggered France's withdrawal from Indo-China.
In the war of resistance against the US, Giap continued to serve as a military leader who worked with the Politburo on masterminding strategy.
General Giap went on to defeat the US-backed South Vietnamese Government in April 1975, reuniting the country.
His outstanding contributions to the nation were made while holding a variety of senior positions, spanning Secretary of the Central Military Commission, Defence Minister, and Commander-in-Chief of the Vietnam People's Army.
His efforts with the Politburo and the Central Military Commission built an armed force operating a people's war following Vietnamese military theory that triumphed over the country's most powerful enemies.
Great cultural activist
The shine of General Giap's career achievements and personality were not restricted to the battlefield but illuminated in cultural and ideological spheres with regular frequency.
General Giap wrote literature, articles, and essays encompassing a diverse range of fields.
He was a perceptive leader always willing to analyse victories and losses equally honestly and consider the advice of his soldiers, experts, intellectuals, and scientists.
General Giap proposed many innovative, far-sighted ideas relating to knowledge-based economies, maritime economies, advanced science and technology, agricultural economies, and human resource development strategy.
The great military leader strongly supported the Party's renewal (Doi Moi) in economics, politics, and leadership, never losing sight of the ultimate goals of a strong country, wealthy people, and a democratic, equitable, and civilised society.
He was a steadfast advocate for history's and geography's utility in broadening knowledge, promoting patriotism, and inculcating a sense of social responsibility. His passionate championing of education recognised its socially progressive role and its capacity for cultivating cultural, spiritual, moral, and aesthetic values.
His clear mind and sharp wit never diminished and he continued offering his leadership insights to the Party, the Government, and the Army after his official retirement.
VOV