Vietnam to further contribute to UN: Vietnamese PM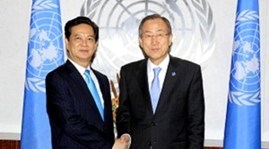 Vietnam will actively contribute to the building of strategies and action programmes of the United Nations in various fields, Prime Minister Nguyen Tan Dung has said.
During his meeting with UN Secretary General Ban Ki-moon in New York on September 27, Dung announced Vietnam's plan to join UN peace-keeping activities in 2014.
He expressed his hope that the UN and the Secretary General will continue helping Vietnam in improving institutional capacity, human resources and policy consultations for the shift of the growth model, the solution of a number of social issues, and the climate change response.
The country also needs experience and other assistance in its international economic integration, helping peacefully solve the disputes in the East Sea in line with international law, including the 1982 UN Convention on the Law of the Sea, the PM said.
Vietnam will continue its consistent foreign policy of independence, self-reliance, peace, cooperation and development implemented over the past years, the leader said, adding that the country will multilateralise and diversify its relations while accelerating its active international integration, becoming a reliable friend and partner and a responsible member of the international community.
For his part, Ban spoke highly of Vietnam's achievements in its socio-economic development, maintaining political stability, making active contributions to peace, stability and development in the region and the world as a whole.
The UN leader also praised Vietnam's active role in the ASEAN community, welcomed the country's decision to take part in UN peace-keeping operations, and expressed his hope for joint efforts in increasing bilateral cooperation for the long-term development goals.
He informed Dung of UN development priorities in poverty alleviation, sustainable development, and peaceful settlement of conflicts.
PM meets WB and IMF leaders
World Bank (WB) and International Monetary Fund (IMF) leaders have affirmed their willingness to support Vietnam's development.
Prime Minister Nguyen Tan Dung hold September 27 (Hanoi time) meetings with WB Group President Jim Yong Kim, WB Managing Director Sri Mulyani Indrawati, and International Monetary Fund (IMF) Managing Director Christine Lagarde.
In his meetings with the WB representatives, Dung discussed ways of expanding Vietnam's cooperation with the international banking institution. He praised the WB's wisdom in deciding Vietnam will continue enjoying preferential loans over the 2014–2017 period.
Dung highlighted the WB's increasing importance to Vietnam's socio-economic development and drive towards middle-income status, particularly in regards to poverty reduction.
He urged the WB and its International Development Association (IDA) to extend its support for sustainable growth in countries—like Vietnam—only recently escaping the clutches of poverty.
Dung said the Vietnamese Government will honour WB economic restructuring guidelines by persisting with macroeconomic stabilization, inflation control, human resources development, market economic institutional fine-tuning, and infrastructure upgrades.
Prime Minister Nguyen Tan Dung works with WB representatives.
He reiterated the Government's willingness to ensure private businesses are welcomed with the best possible conditions for investing in Vietnam and promised reform advice from policy consultants, international donors, and the WB Group would be heeded where appropriate.
The Vietnamese Government is working on accelerating implementing and disbursing WB programmes, projects, and funds.
WB Group President Jim Yong Kim praised recent WB-Vietnam cooperation and reiterated the organization's support for Vietnam's development ambitions. The WB has already committed to providing Vietnam with IDA capital and financial and technical assistance over 2014­–2017.
The WB leaders concurred with PM Dung's outlined priorities.
WB Managing Director Sri Mulyani Indrawati highlighted Vietnam's success in curbing inflation and stabilizing the macroeconomy, singling out monetary policy and foreign exchange rate management for particular commendation. She said future growth will heavily rest on successful economic restructuring, including that of the commercial bank system.
She repeated the WB's readiness to help Vietnam with this mission.
The WB's IDA and International Bank for Reconstruction and Development has provided Vietnam with US$8 billion, greatly assisting Vietnam's economic development and poverty reduction efforts.
The support will continue for the foreseeable future, she said.
At a reception for IMF Managing Director Christine Lagarde, PM Dung restated the IMF's crucial role in the global financial and monetary system and the ongoing recovery from the global financial crisis.
He voiced his support behind the IMF's recovery loans and applauded its approach to Vietnam since the beginning of the latter's open-door policy.
The Vietnamese Government is resolved to pushing ahead with economic restructuring, focusing on reforming State-owned enterprises (SMEs) public investment, and the banking system, PM Dung said.
He asked the IMF to continue collaborating with Vietnam, citing its valuable macroeconomic and inflationary assessments and policy recommendations.  
IMF Managing Director Christine Lagarde added her voice to her colleagues' positive appraisals of the Vietnamese Government's economic leadership. She wants the IMF to fuel Vietnam's future development in whatever capacity it can.
Lagarde encouraged Vietnam's structural economic renovations and private sector development. She approves of current monetary policy and agrees State-owned enterprises must be made more efficient.
The IMF will continue offering Vietnam access to its formidable policy consultancy, training, and technical assistance resources, she said, including its annual economic reports on economic growth and inflation.
PM Dung left Washington on the same day, heading for New York and the scheduled High-Level Meetings the UN General Assembly 68th session.
VNA/VOV