NA chairman greets UK's Prince Andrew
Viet Nam and the UK's parliaments should increase exchanges of high-ranking delegations to share experiences of law making and supervising.
Chairman of the National Assembly Nguyen Sinh Hung made the statement yesterday, Sept 24, while receiving Prince Andrew – Duke of York who is on a working visit to Viet Nam.
He applauded the Prince's visit on the occasion of the two countries celebrating their 40th anniversary of diplomatic ties.
The NA leader thanked the British Royal Family, parliament and people for their support over the past years, especially the country's ODA capital provision which had helped Viet Nam to implement its socio-economic development policies.
Hung asked his guest to continue to support the UK government's supply of ODA, saying that the two sides should enhance co-operation in fields in which the Great Britain was strong and Viet Nam had demand, such as climate change, green technology development and scientific research.
This year, the two countries will strive to reach bilateral trade value of US$4 billion, and the UK investment in Viet Nam is expected to reach $3 billion.
For his part, Prince Andrew said he would continue his efforts to boost the strategic partnership between the UK and Viet Nam, adding that he believed that previous bilateral co-operation would be the foundation for the two sides to grasp new opportunities.
He expressed his wish that the two countries' parliaments and politicians would work together and support each other in international and regional forums of issues of mutual concerns for peace, stability and development.
The same day, Prince Andrew was also welcomed by Deputy Prime Minister Nguyen Thien Nhan.
During the meeting, Nhan said the Vietnamese State and Government highly appreciated long-term British investment in Viet Nam.
The Prince highlighted the necessity of boosting bilateral co-operation in education, adding that the opening of the Viet Nam-UK University would be an important breakthrough in education co-operation between the two countries.
Yesterday, Chairman Hung also received a delegation from the Japanese Communist Party (JCP) led by its Chairman Shii Kazuo.
At the reception, Hung said there was a need to continue promoting the relationship. At present, the two sides are focusing on developing their relations in the framework of the Strategic Partnership for Peace and Prosperity in Asia as agreed by their leaders.
Shii Kazuo suggested the Vietnamese and Japanese Parliaments step up co-operation programmes and projects in order to share legislative experience.
The Japanese guests were received by CPV Politburo member To Huy Rua, who is currently the President of the Viet Nam-Japan Friendship Parliamentarians' Group.
India says VN top SE Asian partner
India attached much importance to fostering relations with Viet Nam, especially in defence, because it was viewed as India's top partner in the Southeast Asia region.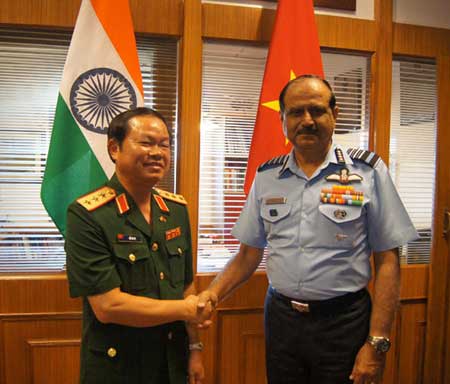 Chairman of the Indian Chiefs of Staff Committee, Air Chief Marshal Norman Anil Kumar Browne meets Senior Lieutenant General Do Ba Ty, Chief of the General Staff of the Viet Nam People's Army, in New Delhi.
Chairman of the Indian Chiefs of Staff Committee, Air Chief Marshal Norman Anil Kumar Browne said this yesterday (Sept 24) while receiving Senior Lieutenant General Do Ba Ty, Chief of the General Staff of the Viet Nam People's Army, in New Delhi.
Air Chief Marshal Browne said the visit of the high-ranking Vietnamese army delegation would create an impetus for the development of the two countries' strategic partnership, including defence co-operation.
Lieutenant Ty spoke highly of the traditional friendship between Viet Nam and India, which was founded by President Ho Chi Minh and Prime Minister Nehru and nurtured by generations of leaders and peoples of the two countries.
He congratulated the Indian Government and people on achievements they had made in national construction and development, voicing his belief that the South Asian country would develop more prosperously in regional and international arenas.
Both host and guest shared their delight at the development in bilateral defence cooperation in all realms, especially since the signing of the memorandum of understanding (MoU) on bilateral defence co-operation in 2009.
The two sides agreed to continue developing this relationship more effectively in the fields of delegation exchange, deputy minister-level defence dialogue, training, naval and air force co-operation.
Browne said India would actively assist Viet Nam in preparing to join UN peacekeeping activities. He said India strongly supported Viet Nam's initiative to set up an expert working group on humanitarian mine action at the second Asian Defence Ministerial Meeting Plus (ADMM+), adding that his country would join hands with Viet Nam in realising this plan as a co-host.
Lieutenant General Ty also met senior Indian military officials, including the Commander-in-Chief of the Armed Forces and the Deputy Chief of the Naval Staff.
Congratulations to Cambodian NA
National Assembly Chairman Nguyen Sinh Hung extended his congratulations to Heng Samrim on his re-election as President of the Cambodian National Assembly yesterday, Sept 24.
In his message, the Vietnamese leader said he believed that the fine neighbourliness, traditional friendship, and long-lasting and comprehensive co-operation between Viet Nam and Cambodia would be continuously consolidated and developed.
The same day, Foreign Minister Pham Binh Minh sent a message of congratulations to Hor Namhong on his re-election as Cambodian Deputy Prime Minister and Minister of Foreign Affairs and International Co-operation.
Singapore's PM eyes ASEAN goal
Singapore's Prime Minister, Lee Hsien Loong, has agreed that by the end of 2015, the 10 ASEAN nations will achieve their aim of becoming one community.*
However, he also agreed with journalists that a considerable development gap could still exist between old and new members.
Talking about Singapore's contributions to reducing this gap, PM Lee said in countries such as Cambodia, Myanmar, Laos and Viet Nam had growth rates were generally higher than in the more developed parts of ASEAN.
The Singaporean PM was addressing media men participating at the sixth ASEAN Journalists Visit Programme which took place in the Garden City from September 16 to 22.
Lee said that in terms of development, Singapore had the Initiative for ASEAN Integration, human-resource development programmes, technical co-operation programmes where officials from new ASEAN members get exposed in Singapore to its departments, how things are done - and pick up ideas which they can implement back home.
"And I think that that is probably the most effective way Singapore can help the new countries develop their economies."
Asked if the deadline for the ASEAN Community on December 31, 2015, was achievable, he said: "From what our officials tell me, I think on the economic community side, we have 80-85 per cent of the work done. I don't think that we will reach 100 per cent of the things which we have sketched out for 2015, but we will reach the bulk of it".
PM Lee, who has just spent three days in Viet Nam at the launch of a Strategic Partnership agreement between Singapore and Viet Nam, said: "This sets out the areas where we can co-operate together – economic, educational, cultural, social, human resources development, including political co-operation.
During the visit, he visited central Quang Ngai Province, where work began on the fifth Viet Nam-Singapore Industrial Park Project.
"I was told it was one of the least affluent parts of the country, but there is potential because there is land, you have hydrocarbons with gas and oil there. You have workers, people willing to work and we are building an industrial park there. I think the investments will come and the jobs will be created. And the development will follow. So I think that I am optimistic on Viet Nam."
* ASEAN, the regional economic and political bloc, plans to play a central role as an emerging hub in the Asia-Pacific. By 2015 it envisions an ASEAN Economnic Community with a single market and distribution base. According to an annual report released by ASEAN, the 10 member states are on track to achieve integration of their economies by 2015. Its secretary general Le Luong Minh noted that economically, ASEAN had already implemented nearly 80 per cent of the measures in the ASEAN Economic Community Blueprint.
Vietnam, Italy boost strategic partnership
Vietnam and Italy have agreed to maintain the exchange of delegation visits to promote mutual trust and understanding and realise their strategic partnership.
The agreement was reached during talks in Rome on September 23 between Italian Deputy Prime Minister Angelino Alfano and his Vietnamese counterpart Hoang Trung Hai, who began an official visit to Rome the same day.
Vietnam attaches importance to boosting cooperation with Italy, Hai said, adding that his visit aims to concretise the result of a State-level visit to Italy in January 2013 by Party General Secretary Nguyen Phu Trong. During the visit, Vietnam and Italy released a joint statement on the establishment of a strategic partnership.
Hai and Alfano agreed to sign a 2013-2014 action plan to realise the joint statement and said both sides need to fully tap the potential for economic cooperation.
Hai appreciated Italy's decision to include Vietnam in the list of the 10 new emerging prioritised markets for investment and trade development.
He proposed the two countries encourage their businesses, especially small- and medium-sized, to increase exchanges to share experience and seek partnerships in the areas of manufacturing, garments, footwear, furniture, support industries, building materials, energy and food processing.
The Italian side said their businesses are keen to partner with Vietnamese businesses to develop new joint cooperation projects in Vietnam.
The two countries will work closely together to celebrate 40 years of diplomatic ties in 2013. Italy will continue supporting Vietnam in organising Vietnam Days in Rome in December 2013 to conclude the Vietnam Year in Italy.
Hai expressed hope that Italy, a key EU member, will lobby the European Commission to early recognise Vietnam's market economy status, ratify the Vietnam-EU Partnership and Cooperation (PCA), and conclude free trade agreement (FTA) negotiations with Vietnam.
Alfano valued the two countries' coordination at multilateral forums, especially the United Nations, ASEAN-EU and Asia-Europe Meeting (ASEM).  He voiced Italy's support for Vietnam's 2014-2016 UN Human Rights Council membership bid.  
The two Deputy PMs witnessed the signing of the 2013-14 action plan to realize the Joint Statement on the Vietnam-Italy Strategic Partnership and an agreement on cultural cooperation in 2014-2015.
Encouraging Vietnam-Italy economic ties
Vietnam and Italy need to encourage their business communities to increase visit exchanges to establish partnerships and develop joint projects.
The view was shared by Italian Minister of Economy and Finance Fabrizio Saccomanni and visiting Vietnamese Deputy Prime Minister Hoang Trung Hai at a meeting in Rome on September 24.
Hai noted that despite the global economic slowdown, two-way trade between Vietnam and Italy has increased annually over the years, from US$2.5 billion in 2011 to US$2.8 billion in 2012.
In the first seven months of this year alone, bilateral trade value hit more than US$2 billion, he said.
However, he said, Italian investment in Vietnam is limited, ranking 9th among European Union investors in the Southeast Asian nation, with 50 projects capitalised at US$257.42 million.
Saccomanni briefed Hai on Italy's recent development achievements and showed Italy's interest in boosting economic, trade and investment cooperation with Vietnam.
Both host and guest examined a number of cooperation projects and incentives for businesses, especially small- and medium-sized, to seek opportunities for cooperation.
Deputy PM Hai met with leaders of the Italian Energy Company (ENI) to discuss the possibility of teaming up with the Vietnam national Oil and Gas Group for exploration and exploitation projects in Vietnam and third countries.
Hai began a governmental level visit to Italy on September 23. After Rome, he will fly to Brussels for another visit to Belgium.
VNN/VOV/VNS/VNA