Top Sri Lankan politician visits Viet Nam for talks
The Speaker of Sri Lanka's Parliament, Chamal Rajapaksa, arrived in Ha Noi yesterday, July 14, at the beginning of a six-day official visit to Viet Nam at the invitation of National Assembly Chairman Nguyen Sinh Hung.
The Speaker is accompanied by a delegation including MP and Senior Minister of Technology and Research Tissa Vitharana and MP and Cabinet Minister of State Resources and Enterprise Development Dayasritha Tisera.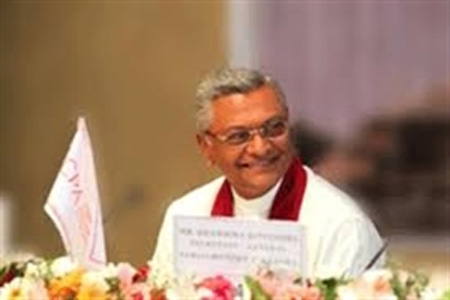 Speaker of Sri Lanka's Parliament Chamal Rajapaksa. (Source: VNA)
During his visit, the Sri Lankan politician is scheduled to hold talks with NA Chairman Nguyen Sinh Hung, visit the Viet Nam Buddhist Academy and several other localities.
Deputy PM cuts ribbon to inaugurate temple honouring young volunteers
Deputy Prime Minister Nguyen Xuan Phuc yesterday, July 14, cut the ribbon to inaugurate a temple at Truong Bon historic site, central Nghe An Province, dedicated to 13 young volunteer workers who laid down their lives 45 years ago during the Anti-American war.
Addressing the event, Phuc said the inauguration of the temple reflected the tradition of "remembering the source of water when drinking", and also helped educate generations on patriotic tradition and national pride.
Truong Bon used to be of strategic importance, serving as a connecting point of key routes to supply material and human resources from the north to southern battlefields.
Thousands of young volunteers died at the site while braving US bombings to ensure smooth traffic on this artery road. The 13 members of the Volunteer Youth force were killed on October 31, 1968, just hours before the US officially declared an end to the bombing of north Viet Nam.
Phuc requested everyone in the province and nationwide to join hands to improve the lives of families of the fallen.
Truong Bon Temple, built at a cost of VND22.9 billion(US$1.1 million), is part of a project to preserve and upgrade the Truong Bon historic site.
Construction of some works inside the site is in progress, which include a monument and the main display area. Houses in local hamlet 9 will also be repaired and preserved to give visitors some ideas of the lives of local people during the war.
Also yesterday, a requiem for fallen volunteer workers was held at the temple.
More than 1,000 monks and nuns of the Viet Nam Buddhist Sangha prayed for souls of the fallen and for the country's peace and prosperity.
The event was held to express gratitude to those who dedicated themselves to national liberation on the occasion of the 66th Day of War Invalids and Martyrs (July 27).
Unexploded bombs and explosives remain
A map of bomb and mine pollution will be accomplished by 2015, said Hoang Minh Hong, deputy director of Viet Nam Bomb and Mine Clearance Action Centre yesterday.
In doing so, training activities for the bomb clearance teams would be in focus, he said.
The most affected and polluted production areas will be the first ones cleared. The target is 500,000ha, mainly in central provinces, according to Hong.
Victims of unexploded bombs and mines would get support to regain normal lives via job training courses or financial assistance, he said.
For example, the centre was conducting a propramme which guided victims to grow mushrooms and then give them mushroom varieties, he said.
Nguyen Duc Chinh, Deputy Chairman of central Quang Tri Province People's Committee, said information on unexploded bombs and mines and affected areas would be updated regularly.
The statistics of the Ministry of Labour, Invalids and Soccial Affairs showed 15 million tonnes of bombs, mines and explosives were used during the American War in Viet Nam. At the current pace of detecting and defusing unexploded ordnance, it would take the country about 300 years to clear them.
More than 6.6 million hectares of land are affected by unexploded ordnance. About 104,000 people have been injured or killed by them since 1975.
Deputy PM: Favourable conditions for Japanese investors
Deputy Prime Minister Vu Van Ninh has made it clear that the Government of Vietnam will continue perfecting policies and forge all possible favourable conditions for global investors, and treat them fairly, including those from Japan.
Receiving Chairman and Chief Executive Officer of the Japan External Trade Organisation (JETRO) Hiroyuki Ishige in Hanoi on July 12, Deputy PM Ninh praised JETRO for its role in cementing trade and investment between the two countries over the past time.
He thanked the Japanese Government for its support to Vietnam, particularly in official development assistance, infrastructure, economics, trade and investment.
The host expressed his hope that JETRO, with its global network, will encourage not only Japanese companies to invest in Vietnam, but also those in the region and the world to seek business deals in the country.
Ishige said he hopes Vietnam will prioritise human resources and infrastructure development, support industry and clear difficulties faced by Japanese and foreign investors as well.
KOICA pledges HR assistance
The Korean International Cooperation Agency (KOICA) will provide continued support for Vietnam's education and vocational training development to create qualified human resources.
KOICA President Kim Young Mok was speaking at a reception in Hanoi on July 12 given by Deputy Prime Minister Nguyen Thien Nhan.
He reiterated his agency's commitment to support Vietnam in drawing up green economic development strategy and in building a Korean-style Research Institute of Science and Technology.
He said KOICA is providing official development assistance (ODA) to a number of countries and Vietnam is one of the aid recipients that have used the aid efficiently.
Over the years, the RoK has committed more than US$1.2 billion in ODA to Vietnam's healthcare and education programmes.
For his part, Deputy PM Nhan appreciated the recent effective cooperation between Vietnam and the RoK, especially in education and health care.
KOICA's support packages have been partly used to build well-equipped information technology colleges that help increase higher job opportunities for graduates, said Nhan.
He assured his guest that Vietnam will use Korean ODA efficiently.
Handling public complaints must be done efficiently
Lawmakers on Friday, July 12, agreed to improve the handling of citizen's complaints and criticisms to protect people's legal rights and in the interests of the State.
The National Assembly Standing Committee has decided at its meeting to amend the resolution related to the treatment, supervision and follow-up of citizens' complaints.
The resolution would affect all levels of administration, from the National Assembly to its offshoot bodies, Standing Committee, deputies and delegations.
Most deputies agreed that the resolution should regulate responsibilities in detail, including the supervision of follow-ups related to complaints and criticisms.
NA Vice Chairperson Tong Thi Phong said during the debate, held on the last day of the committee's 19th session, that the regulations should meet the expectations of both the National Assembly and the public.
It was decided that the National Assembly Commission for People's Aspirations should have the responsibility of helping organise citizens' meetings and receiving their complaints and criticisms.
Deputy Affairs Committee Chairwoman Nguyen Thi Nuong said the resolution should also regulate deputies' powers and responsibilities, including pushing for timely settlements in all instances of complaints and criticisms.
Meanwhile, the Standing Committee also passed an ordinance for revising and amending some articles of the Ordinance on use and management of weapon, explosives and support tools.
Viet Nam strives to strengthen strategic partnership with India
Viet Nam attaches a great deal of importance to its strategic partnership with India, which underlines the country's policy on South Asia, as it appreciates India's proactive role in maintaining regional and global peace, stability and cooperation.
Foreign Minister Pham Binh Minh stated this when he met with Indian Prime Minister Manmohan Singh in New Delhi on Friday, as part of his three-day official visit to India, from July 10-12.
During their meeting, PM Singh applauded Viet Nam's socio-economic achievements, confirming that India regards Viet Nam as key to its "Look East" policy, as well as pledging to promote and expand its bilateral strategic partnership with Viet Nam.
He agreed with the outcomes of the 15th Viet Nam-India Joint Commission meeting, asking that both countries clarify key areas of cooperation such as economics, security/defence, science/technology and culture and education.
Numerous Indian businesses are keen to invest in Viet Nam, said the Prime Minister, adding that the opening of a direct flight route between both countries will enhance cooperation in economics, culture and tourism.
Foreign Minister Minh passed on greetings from several senior Vietnamese leaders to India's top politician and delivered an invitation from Prime Minister Nguyen Tan Dung, asking Manmohan Singh to visit Viet Nam soon.
Later the same day, the Vietnamese Foreign Minister gave a speech on Indian-Vietnamese relations and regional issues, at the Indian Council of World Affairs (ICWA), which received special attention from various respected Indian academics, researchers and the media.
The 15th meeting of the Viet Nam-India Joint Commission ended on Thursday, with many important decisions being reached.
Both countries stated that they will continue to strengthen their strategic partnership and diversify areas of cooperation in the near future.
Poland, Vietnam closely cooperate in combating crime
Vietnam and Poland have agreed to work closely in response to the emergence of new crime.
A consensus was reached during the recent talks in Poland between Vietnamese Minister of Public Security, General Tran Dai Quang, and Polish Minister of Interior and Administration Bartlomeij Sienkiewicz.
The two sides were committed to the regular exchange of information and experience to implement the signed agreements more effectively.
Minister Quang congratulated the Polish Government and people on their recent achievements and expressed sincere thanks to Polish agencies for supporting the Vietnamese community in Poland.
The two governments' 2003 agreement on organized crime prevention has been implemented effectively, helping ensure social order and safety in both countries, he said.
For his part, Sienkiewicz summed up Poland's efforts to maintain national security and social order.
During their stay in Poland, the Vietnamese delegation visited the anti-terrorism training centre and the Museum of the Polish Army and met the staff of the Vietnamese Embassy in Poland.
VNN/VOV/VNS/VNA