VietNamNet Bridge – Visiting General Secretary of the Communist Party of Viet Nam Nguyen Phu Trong held talks with Thailand's Prime Minister Yingluck Shinawatra in Bangkok yesterday, June 25, focusing on promoting bilateral relations to a strategic partnership.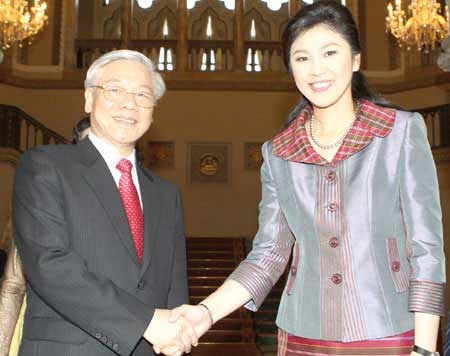 Party General Secretary Nguyen Phu Trong (left) with Thai Prime Minister Yingluck Shinawatra in Bangkok yesterday.
At the meeting, Trong spoke highly of Thailand's position and role in the region and the world, affirming that Viet Nam always attached importance to developing and expanding friendship and multifaceted co-operation with Thailand.
He conveyed his regards and best wishes to King Bhumibol Adulyadej, who is being treated in hospital.
Yingluck said she highly valued the Vietnamese Party leader's visit, the first of its kind since former Party General Secretary Do Muoi's visit 20 years ago, which is taking place as the two countries' relationship is being lifted to a strategic partnership.
Last year, two-way trade topped US$8.6 billion. Thailand has about 300 valid direct investment projects in Viet Nam with total registered capital of $6.12 billion.
The two leaders reached a consensus on the establishment of a strategic partnership between Viet Nam and Thailand with the five main pillars of political relations, defence and security ties, economic co-operation; socio-cultural relations and regional and international co-operation.
The leaders agreed to assign relevant departments in both nations to co-ordinate in building an action plan and concrete roadmap that would lead to an eventual signing of the strategic partnership by the two countries' Prime Ministers at a joint cabinet meeting slated for October in Thailand.
Boosting exchanges and co-operation between the two ruling Parties and National Assemblies was the most important political basis to develop the two countries' relations, they said.
The leaders said that it was necessary to expand and strengthen people-to-people exchanges in a practical and effective manner, particularly between the two countries' younger generations.
They committed to strive for an annual 20 per-cent increase in two-way trade to reach the goal of $15 billion by 2020, encouraging the prompt signing and implementation of a co-operation agreement on labour affairs. Accordingly, Thailand will receive Vietnamese workers, especially in relation to building infrastructure and strengthening transport links along the East-West Corridor. Viet Nam pledges to create favourable conditions for Thai investors and encourages them to invest in the fields of support industries, petro-chemistry and oil and gas exploration and exploitation.
They suggested Viet Nam, Thailand and other countries in the Association of Southeast Asian Nations (ASEAN) continue intensifying solidarity and co-operation to maintain the central role of the grouping in regional security structure and successfully build an ASEAN Community by 2015.
They expressed concerns over the recent developments in the East Sea and said that concerned parties should solve disputes by peaceful means on the basis of international law, including the 1982 United Nations Convention on the Law of the Sea (UNCLOS 1982) and the Declaration on the Conduct of parties in the East Sea (DOC), and ASEAN's Six-Point Statement. They agreed to soon build a Code of Conduct in the East Sea (COC), aimed at ensuring peace, security and maritime safety and freedom in the East Sea.
Earlier on the same day, Trong also met with the leader of the ruling Pheu Thai Party (PTP) Jarupong Ruangsuwan after arriving in Bangkok.
The PTP leader briefed the visiting party leader on the history and development of his party as well as its role in Thailand's development.
Trong confirmed the Communist Party of Viet Nam's policy to develop and expand relations with regional and international political parties on the basis of ensuring national interests and independence. On the same day, Trong also visited the Vietnamese Embassy in Thailand and met with members of the Vietnamese community in the country.
Source: VNS