VietNamNet Bridge – Prime Minister Nguyen Tan Dung delivered a keynote address at the 12th Shangri-La Dialogue on Friday calling on nations to build strategic trust for peace, co-operation and prosperity in the Asia-Pacific region.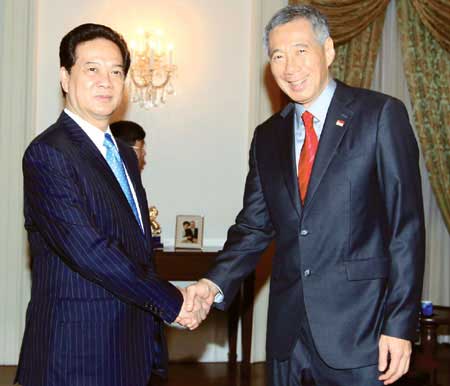 Prime Minister Nguyen Tan Dung (left) meets Singaporean PM Lee Hsien Loong.
Dung said Southeast Asia in particular and the Asia-Pacific in general were once fierce battlefields and deeply divided for decades, so the entire region had long held a burning desire for peace. To achieve peace, development and prosperity, it was a must to build and consolidate strategic trust, he said.
"Viet Nam has a profound confidence in the bright future of development and co-operation in the region that we are living in. Yet the trend of increased engagement and competition, particularly by big powers not only offers positive elements but also involves negative risks that require us to take initiative and work together to prevent," Dung said.
The Vietnamese leader noted that the Asia-Pacific region now enjoys dynamic development and is home to the three biggest economies and many emerging ones of the world. "Here, the trend of multi-layer and multi-sector co-operation and linkages is evolving vigorously and becomes the prevailing one of the day. This is quite a promising prospect for us all," he said.
He mentioned the unpredictable developments in the Korean Peninsula; sovereignty and territorial disputes from the East China Sea to the East Sea that were threatening regional peace and security and causing deep concerns to the international community. "Somewhere in the region, there have emerged preferences for unilateral might, groundless claims, and actions that run counter to international law and stem from imposition and power politics," he said.
He said such challenges and risks of conflict were not to be underestimated and all parties understood that if the region fell into instability and armed conflict, all would lose. Therefore, he said, working together to build and reinforce strategic trust for peace, co-operation and prosperity in the region was in the shared interests of all.
"For Viet Nam, strategic trust is perceived, above all, as honesty and sincerity," he stressed.
To build strategic trust, Dung said parties needed to abide international law, uphold the responsibilities of nations, especially of major powers, and improve the efficiency of multilateral security co-operation mechanisms.
Each state should always be a responsible stakeholder in the pursuit of common peace and security. Countries, either big or small, must build their relations on the basis of equality and mutual respect and at a higher level, on mutual strategic trust.
Dung said that the future of the Asia-Pacific had been and would continue to be shaped by the roles and interactions of all countries in the region and the world, particularly by the major powers and by the indispensable role of ASEAN.
He attached special importance to the roles played by a vigorously rising China and by the United States - a Pacific power.
He emphasised that the existing regional co-operation mechanisms, such as the ASEAN Regional Forum (ARF), East Asia Summit (EAS), ASEAN Defence Ministers' Meetings Plus (ADMM+) and the Shangri-La Dialogue itself, offered opportunities to foster multilateral security co-operation and find solutions to the arising challenges.
However, he noted that what was still missing, or at least still insufficient, was the strategic trust in the implementation of those arrangements.
He also said Viet Nam and other ASEAN members always desired for other countries, particularly the major powers, to support the ASEAN Community's central role in multilateral co-operation forums and its principles of consensus and unity.
"We believe that ASEAN and its partners can work together to develop a feasible mechanism that could guarantee maritime security and safety and freedom of navigation in the region," he said.
He announced that Viet Nam had decided to participate in UN peacekeeping operations, first in such areas as military engineering, military medicine and military observation.
He reaffirmed that Vietnam's defence policy was that of peace and self-defence. "Vietnam will not be a military ally to any country and will not allow any country to set up military bases on Vietnamese territory. Vietnam will not ally itself with any country to counter another," Dung said.
With regard to the present threats and challenges to regional security such as the Korean Peninsula, the East China Sea and the East Sea, he said Viet Nam persevered to the principle of peaceful dispute settlement on the basis of international law, respecting the independence, sovereignty and the legitimate interests of each other. All parties concerned needed to exercise self-restraint and must not resort to force or threat to use force, he said.
He reiterated Viet Nam's consistent compliance with the ASEAN Six-point Statement on the South China Sea and said it would do its utmost to work together with ASEAN and China to seriously observe the DOC and soon arrive at the COC. "As a coastal State, Viet Nam reaffirms and defends its legitimate rights and interests in accordance with international law, especially the 1982 UNCLOS," he said.
Initiated by the International Institute for Strategic Studies (IISS), the annual Asia Security Summit, or Shangri-La Dialogue, was first held in 2002.
It is a venue for leaders, policymakers and scholars across the Asia-Pacific region to discuss regional and global situations, strategic orientations for regional security and measures to promote defence cooperation and enhance mutual understanding and trust.
This year's event brought together government leaders, defence ministers and top security analysts from 27 Asia-Pacific countries, including 10 ASEAN member nations, as well as other countries such as the US, Russia, Canada, the UK and France.
Bilateral meeting
On the same day, Prime Minister Nguyen Tan Dung paid a visit to the host country's President Tony Tan Keng Yam and met its Prime Minister Lee Hsien Loong.
The President declared that Singapore attached much importance to and highly valued the role that Viet Nam plays in the region.
The leaders expressed their delight at the developing friendship and comprehensive co-operation between the two countries, especially at a time when Viet Nam and Singapore are celebrating the 40th anniversary of their diplomatic ties and are looking towards the establishment of a strategic partnership.
The two sides also pledged to continue strengthening co-operation at regional and international forums in the interests of each country's people and in support of peace, stability, co-operation and development in the region and the world.
Meeting with Lee Hsien Loong, Dung thanked his Singaporean counterpart and the organisers of the 12th Shangri-La Dialogue for inviting him to deliver a keynote address at the event. He spoke highly of the significance of the dialogue, describing it as a chance for Viet Nam to share its views on regional and international security issues.
The two PMs said they were pleased with the strong, rapid, dynamic and effective development of the comprehensive co-operation between the two countries during recent years.
They noted that Singapore has always been one of Viet Nam's leading investors and trade partners, even through gloomy times for the global and regional economy, citing that two-way trade had increased year on year, hitting US$9.6 billion in 2012.
Singapore businesses now have 1,173 projects in Viet Nam, with a total registered investment of $27 billion. In particular, the Viet Nam-Singapore Industrial Park (VSIP) has been a success and expanded into Viet Nam's northern and central regions.
The two sides confirmed that they would further promote their partnership in the areas of defence, security, culture, education, construction and tourism.
They also applauded relevant agencies of both sides for completing a joint statement on the establishment of the strategic partnership, which is expected to be signed during Lee's visit to Viet Nam later this year.
Both sides agreed to continue working closely in the negotiation process for a Trans-Pacific Partnership (TPP) Agreement.
The leaders also discussed a number of regional and international issues of mutual concern. They agreed that ASEAN should exert more efforts to maintain internal solidarity, while nurturing a strong political will to successfully build an ASEAN Community by 2015 and promote its central role.
Regarding Viet Nam's message to the 12th Shangri-La Dialogue, both the Singaporean President and Prime Minister lauded and agreed with Viet Nam's viewpoint, which they said was suitable and crucial to the current general situation in the region, practically contributing to an Asia-Pacific region of peace, stability, co-operation and development.
Concerning the East Sea issue, the Singaporean leaders agreed on the importance of ensuring peace, stability, maritime security and safety in the East Sea, while sharing the same opinion that all relevant parties should act with restraint and settle all disputes peacefully in accordance with international law.
During his visit, Dung and Lee witnessed the granting of a supplementary licence for the Dung Quat Thermal Power Plant project in Viet Nam's central province of Quang Ngai to Singapore's Sembcorp Group.
With total investment of around $2 billion, the plant has a capacity of 1,200 MW and is being constructed in the Dung Quat Economic Zone. This is the second project funded by Sembcorp in Quang Ngai.
Source: VNS