VietNamNet Bridge – The Danzhou fishing fleet with 24 vessels of Hainan province, China on the morning of May 6 departed a local fishing port to the Truong Sa fishing ground of Vietnam.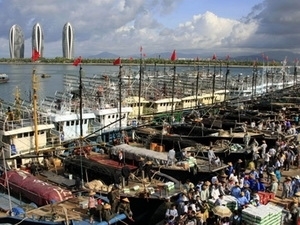 Chinese fishing boats. Photo: China Daily
According to the China News network, this is the largest fishing fleet of China that has operated in the Truong Sa waters since early this year.
According to the source, the fleet consists of fishing vessels with a tonnage from over 100 tons or more, equipped with modern communication devices to ensure communication with the mainland 24/7.
Among these vessels, there is a logistics ship with a tonnage of 4,000 tons and a cargo ship of 1,500 tons with the duty to ensure essential supplies such as oil, soft drinks, ice, food, safety management operations and emergency response support for the fleet.
It is reported that the fleet will operate in the area for about 40 days.
This is the latest action seriously violating Vietnam's sovereignty, following a number of recent actions of China in the waters of the Hoang Sa Archipelago of Vietnam.
Chinese senior officials recently inaugurated a bookstore on Phu Lam Island in Hoang Sa Archipelago. China also organizes tours to Hoang Sa and is about to organize a fishing contest in this area.
On April 30, Vietnam's Foreign Ministry spokesman Luong Thanh Nghi asked China to stop the wrongdoings described above and to not affect the peace and stability in the East Sea.
"Vietnam confirms indisputable sovereignty over the Hoang Sa Archipelago. China's above acts have seriously violated Vietnam's sovereignty, contrary to the agreement on basic principles on settling sea issues between Vietnam and China, not comply with the Declaration of ASEAN-China on the occasion of the 10th anniversary of the Declaration on the Conduct of Parties in the East Sea (DOC) and violating the DOC, causing tension and making the situation more complicated in the East Sea," the spokesman said.
TTXVN