VietNamNet Bridge – Secretary General of the Organisation for Economic Cooperation and Development (OECD) Angel Gurria has hailed Vietnam as a success in meeting millennium development goals (MDGs) and taking new approaches to social cohesion and poverty reduction.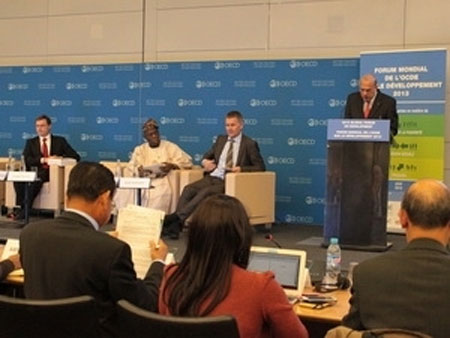 The forum view. (Photo: VNA)  
At the OECD Global Forum on Development that began in Paris on April 4, Gurria said the world has made great strides in alleviating poverty, yet the global crisis is posing challenges in implementing the OECD's post-2015 development vision and 2050 environment strategy.

He said the significant event will discuss ways on how to step up the fight against poverty for a sustainable environment and comprehensive development.

Tring Cong Khanh, head of the Ethnic Minority Policy Department under the Vietnamese Government's Committee of Ethnic Minority Affairs, said thanks to initial successes in fulfilling MDGs, especially in the fight against poverty, OECD has chosen Vietnam as one of the countries to carry out poverty reduction projects on the basis of social cohesion for the first time.

Ji-Yeun Rim, Special Assistant to the Chief Operating Officer at the OECD Development Centre, said the social cohesion and harmony project, expected to launch in Vietnam this May, focuses on assessing the rapid and strong economic growth's impacts on social cohesion.

According to her, it is necessary to consider vulnerable people's quality of life, the wealth gap and mobilisation of mass power while alleviating poverty.
Three working sessions at the event looked at the themes: "The poverty challenge - Global trends, uncertainties, and national policy frameworks", "Beyond poverty reduction: The challenge of social cohesion in developing countries", and "Innovative approaches to measuring poverty, well-being and progress, and implications for statistical capacity development".
The two-day event drew leaders and representatives of OECD member and non-member nations from North America, South America, Europe and Asia-Pacific.
Source: Vietnam Plus