VietNamNet Bridge – The number of women in leadership positions in political organisations, including the National Assembly and Government, has yet to reach its full potential, said deputy head of the Viet Nam Women's Union Nguyen Thi Thu Ha.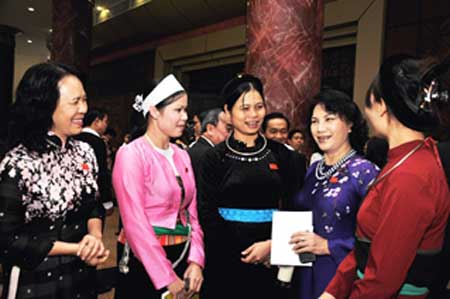 Deputy Chairman of National Assembly Nguyen Thi Kim Ngan,
second from the right, and deputies of the NA. -- bienphong.com.vn
Speaking at a policy dialogue on promoting women's participation in politics yesterday, March 26, Ha said improper regulations and gender discrimination were huge impediments for women who wanted to get involved in politics.
According to the union's 2011 statistics, women filled over 8 per cent of posts in party committees at the central level, 11 per cent at the provincial level, 15 per cent at the district level and 18 per cent at the commune level.
Vice director of Centre for Education Promotion and Empowerment of Women (CEPEW) Ngo Thu Ha said the number of women in leadership posts has barely increased and even decreased.
In the National Assembly (NA), for example, the percentage of female deputies declined in the last decade, from 27.3 per cent in the 11th NA (2002-07) to 24.2 per cent in the 13th NA (2011-16).
"Few women have real power in decision making and few take key positions," she said, blaming the problem on regulations about retirement age and a lack of regulations about women's candidacy for future leadership posts.
Moreover, organisations had yet to consult the Women's Union about how to get more women involved.
Nearly half of women over 46 participate in political activities, according to a survey about women's political participation conducted late last year by CEPEW and ActionAid in Ha Noi, Quang Ninh, Dak Lak, Tra Vinh and HCM City. But under current regulations, it's difficult for them to become promising candidates for future leadership positions.
Only 21 per cent of current female leaders are under 36 years old – indicating that there may be a shortage of viable candidates in the future.
Traditionally, women are saddled with responsibility for both family and work –making it especially hard for them to get politically involved.
Deputy director of Gender Equity Department under the Ministry of Labour, Invalids and Social Affairs Vu Ngoc Thuy said Viet Nam launched a national gender equity strategy toward 2020 three years ago that included projects to strengthen women's capacities and create candidates for future leadership posts.
"Drastic measures are needed to boost the participation of women in leadership," she said.
By 2020, the country aims for women to fill at least 25 per cent of posts in party committees at all levels and 35-40 per cent of seats in the National Assembly. State and Government agencies aim to have females occupy at least 30 per cent of key leadership positions.
"It's a quite ambitious target, requiring breakthrough actions starting now," Thuy said.
Source: VNS