VietNamNet Bridge – The spokesman of the Government, Minister Vu Duc Dam has confirmed that the plan to remove difficulties for the real estate market will benefit the medium and low-income earners more than the rich.
Is there group interest in the policy to rescue estate market?
Very hard to break the frozen estate market, says minister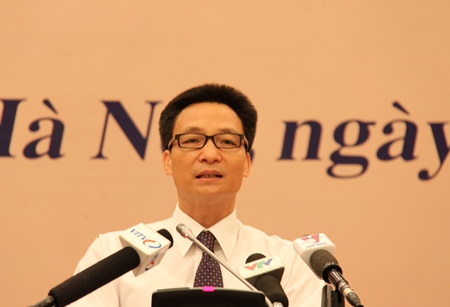 Chairman of the Government Office –Vu Duc Dam.
Answering correspondents at the government's January press conference on January 29, the Chairman of the Government Office –Vu Duc Dam – said the resolution to remove difficulties for the real estate market does not aim to save the rich, but for the sake of the economy.
"The Government never focuses on saving the rich. The Government's management is for economic development. The Government's consistent priority is for the difficult subjects," Dam emphasized.
He said that in the process of solving problems for the real estate market, the Government will create opportunities to help the poor, the middle-income people who previously could not have access to loans and did not have enough financial resources to buy a house.
In fact, before making the decision on removing difficulty for this market, Prime Minister Nguyen Tan Dung worked with relevant ministries and agencies, banks and trade associations, real estate enterprises in Hanoi and Ho Chi Minh City.
The government has assigned the Ministry of Planning and Investment to review the entire state of Vietnamese businesses, including real estate business. The Prime Minister has also asked the Ministry of Construction and big cities to assess the state of the real estate market.
According to the latest information from the Ministry of Construction, the total number of active enterprises in the construction sector is 55,870 businesses, including 7,848 real estate businesses, accounting for 14%. In 2012, the construction businesses operating at profit is 37,197; the loss-incurring number is 17,000, an increase of more than 2,000 business compared to 2011.
Statistics shows that the rate of loss-incurring construction enterprises increased sharply in 2011 and 2012, from 9,451/48,753 in 2010 (19.4%) to 14,998/48,733 in 2011 (30.8%) and 17,000/55,870 in 2012 (30.4%). That's not to mention the 2,637 businesses that ceased operations or were dissolved in 2012.
Compiled by S. Tung