VietNamNet Bridge - According to many experts on East Sea studies, China's passport with the nine-dash line is no precedent in international relations.
The East Sea disputes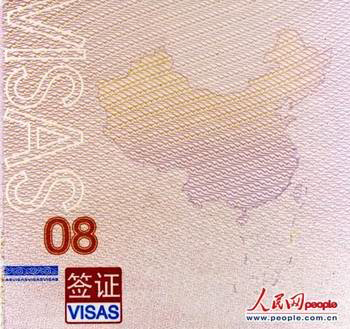 China's new passport, with the groundless U-shaped line.
Hoang Viet, a lecturer from the Ho Chi Minh City University of Law said, the "U-shaped line" has no legal basis, so the map with this claim line in China's new passports has no value. In international relations and diplomacy, this is unprecedented. In particular, the territorial claims in China's new passports are related to many countries in ASEAN, India, etc.
"With this precedent, China has exposed its malice, in spite of everything, not be afraid of any country," Viet said.
According to Viet, this action shows China's consistent strategy on the East Sea. To threaten other countries, China uses three "wars" to crush small countries, including psychological warfare, media warfare and economic warfare.
This expert also said that, on one hand, the new passport raises concern, but on the other hand, it makes many countries to awake and realize a real China.
Meanwhile, Dr. Vu Cao Phan was not surprised about this new move by China. According to him, this is just the next step in the many steps to realize the ambitions of this country. This is similar to China's establishment of the so-called Sansha City to self-proclaim sovereignty despite the protest of other countries.
Phan said that, in relations with China, Vietnam needs to rely on the international community. He also suggested using the hotline between the two countries' leaders to handle the issue because the passport is issued by Chinese police.
"The basic principle is that Vietnam does not accept the passport with the U-shaped line. On that basis, we have many measures," Phan said.
Both experts agreed that the new passport can affect trade and travel between the two countries.
After China issued new passports which have the Chinese map and the U-shaped line, many countries have shown strong opposition.
On November 22, the Vietnamese Foreign Ministry spokesman Luong Thanh Nghi said that the Chinese act has violated Vietnam's national sovereignty over the Hoang Sa (Paracel) and Truong Sa (Spratly) archipelagoes, and its jurisdiction rights to related territorial waters in the East Sea.
Translated by Tran Cham
From VietNamNet/VNE