VietNamNet Bridge – The nation watched last Friday, Nov 9, as National Assembly deputies continued their heated debate over amendments to the 2005 Law on Anti-Corruption, with members calling for real commitments from the Government, Party and the NA to make sure there is an effective legal framework in place to support the fight against corruption.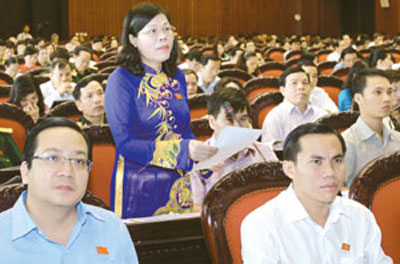 Deputy from northern Phu Tho Province, Le Thi Yen,
joins the National Assembly's debate on amendments
to the 2005 Law on Anti-Corruption last Friday, Nov 9.
Deputy Duong Trung Quoc, from southern Dong Nai Province, said that even though the law was passed seven years ago, there have been many major corruption cases uncovered since then and corruption has become a national disease.
"If the law was implemented better, we would not have the cases of Vinashin and Vinalines," Quoc said, referring to the two disgraced state conglomerates. "We are currently fighting corruption like it is just a battle game. We have guns but they aren't real and everyone is safe."
During the one-day session, which was broadcast nationwide, many deputies outlined their belief that a specialised, independent entity on anti-corruption is required.
The draft proposed an amendment to the Law on Anti-Corruption reorganising the current national steering committee on anti-corruption. Currently the committee works under the Prime Minister, but it is suggested that it should instead operate under the Party Politburo, headed by the Party General Secretary.
NA member Nguyen Ba Thuyen from Central Highland province of Lam Dong said many voters supported this move, which would make anti-corruption work far more transparent.
Other deputies said the responsibility could fall under the jurisdiction of the NA or the President.
Tran Van Do, a deputy from southern An Giang Province, agreed that a national government agency tackling corruption should be made a subsidiary of the Party Politburo, and has several provincial offices.
The NA, according to most of its members, should only supervise anti-corruption work and cannot replace the government in playing the leading role in efforts to combat the problem.
Deputy Thuyen from Lam Dong Province, noted that those who are charged with anti-corruption crimes should not be granted amnesty or be put under probation. "We need to consider corruption as a crime as severe as drug trafficking or treason," he said.
It was also agreed that enforcing high-ranking officials to publicly list their properties was critical in the fight against corruption.
However, such efforts have so far been largely ineffective. To date, no corruption cases have been uncovered due to evidence obtained from lists of properties owned by officials.
Huynh Nghia, deputy head of the central Da Nang legislative delegation, said the regulations have not been strict enough to force officials to list their high-valued property.
Deputy Do from An Giang Province called for officials' income to be monitored through checking bank accounts, and suggested the creation of a legal method to require that all state officials and staff, especially the high-ranking ones, list their properties. The relevant authorities could revoke properties that are found to be not legally obtained under the law.
According to Nghia, the NA has been suggesting that the Government introduce a resolution such as this since 2005, but nothing has been done.
Notably, deputies also called for the revamped law to provide more support to the media undertaking investigations.
"This is preferable to journalists and reporters being forced to reveal their sources and submit their evidence to anti-corruption authorities after breaking a story," they said.
VietNamNet/VNS