VietNamNet Bridge – An International seminar on the real situation and solutions for the issue of sovereignty in the East Sea was held at Chosun University in Gwangju, the Republic of Korea (RoK) on October 23.

Int'l scholars reject China's East Sea demands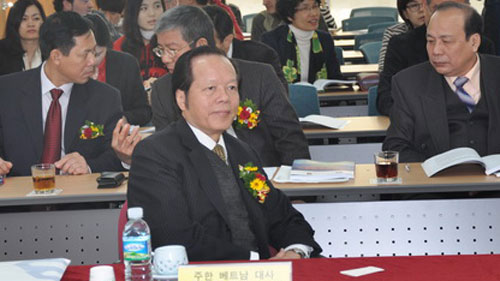 Vietnamese ambassador to the RoK Tran Trong Toan at the seminar.
Vietnamese ambassador to the RoK Tran Trong Toan and Chosun University Rector Suh Jae-hong attended the event, along with professors, researchers, and students from both countries.
In his opening speech, Rector Suh Jae-hong said the seminar aims to allow researchers to frankly and openly express their views, present relevant historical evidence, and propose solutions to help the countries concerned settle disputes through peaceful means and maintain regional stability.
Ambassador Toan highlighted the practical significance of the seminar in the context of increasingly fierce disputes over territorial waters, exclusive economic zones and the continental shelf in northeast and southeast Asia.
As a signatory to the 1982 United Nations Convention on the Law of the Sea (UNCLOS), Vietnam has sufficient historical and legal evidence to confirm its sovereignty over the Hoang Sa (Paracel) and Truong Sa (Spratly) archipelagos.
It also maintains sovereignty and jurisdiction over its internal and territorial waters, exclusive economic zone and continental shelf, as defined in the 1982 UNCLOS, said the ambassador.
He also underlined Vietnam's consistency in sticking to the Declaration on the Conduct of Parties in the East Sea (DOC) and the guidelines for its implementation as agreed by ASEAN member countries and China, as well as the agreement on basic principles for guiding the settlement of East Sea issues between Vietnam and China.
Vietnam has also pledged to join hands with ASEAN countries to accelerate negotiations for signing the Code of Conduct of Parties in the East Sea (COC) with China as soon as possible, in the spirit of the six-point declaration.
During the one day seminar, participants delivered reports on Vietnam's and the RoK's sovereignty over their seas and islands, the history of Vietnam's sovereignty over the Hoang Sa and Truong Sa archipelagos and Vietnam's strategy for dealing with the current East Sea disputes.
Similarities and differences in territorial disputes between northeast and southeast Asian regions were also discussed, as well as China's claim to its sovereignty over the East Sea.
VietNamNet/VOV