Promoting Vietnam-Panama cooperation

Panamanian President Ricardo Alberto Martinelli Berrocal's official visit to Vietnam from October 24-27 is aimed at boosting bilateral cooperation in potential areas.

During the visit, the first one by a Panamanian head of state since the two countries established diplomatic relations in 1975, Berrocal and his Vietnamese counterpart Truong Tan Sang will discuss the implementation of signed agreements for the benefit of their own national construction and development.

They include agreements on visa exemption for diplomatic and official passport holders, science-technology cooperation, and marine transportation, and a memorandum of understanding on agricultural cooperation.

Two-way trade between Vietnam and Panama has grown dramatically, from US$50 million in 2005 to US$245 million in 2011 and US$120 million in the first half of 2012. Vietnam's main exports to Panama are wood, footwear, and handicraft products, and agricultural machinery. The two countries have huge potential for cooperation in marine transportation, agriculture, and traditional medicine.

Panama now has nine projects in Vietnam with a total capitalization of more than US$51 million.

Vietnam opened its embassy in Panama in 2002 and Panama opened its embassy in Vietnam in 2006. The Chairman of the then Council of Ministers, Pham Van Dong, and Foreign Minister Nguyen Dy Nien visited Panama in 1975 and 2002, respectively. Panama's Minister of Agricultural and Livestock Development Guillermo Salazar and his successor Minister Victor Perez visited Vietnam in 2008 and 2010, respectively.

The two countries have enjoyed mutual support at international and regional forums. Panama supported Vietnam's candidacy as a non-permanent member of the UN Security Council for the 2008-2009 term and recognized its market economy mechanism in 2010.

VN, Thailand to hold joint cabinet meeting

Vietnam and Thailand will hold their second joint Cabinet meeting in Hanoi on October 27, according to the Ministry of Foreign Affairs.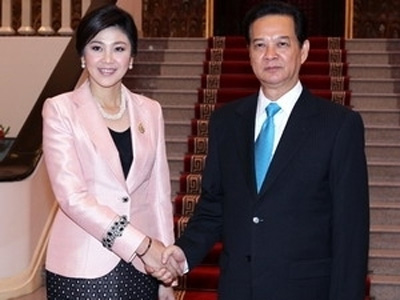 PM Nguyen Tan Dung and PM Yingluck Shinawatra. (Source: VNA)
Prime Minister Nguyen Tan Dung and his Thai counterpart, Yingluck Shinawatra, will co-chair the event, the ministry further said in a communiqué issued on October 23.
Honduras keen to cement ties with Vietnam
The government of the Republic of Honduras is eager to strengthen its friendship and cooperation with Vietnam and hopes to help the country promote cooperation between the Central American Integration System (SICA) and the Association of Southeast Asian Nations (ASEAN).
Honduran President Porfirio Lobo Sosa stated this at a ceremony in the capital Tegucigalpa on October 22 as Vietnam's new Ambassador to Honduras Le Thanh Tung presented his credentials.
Sosa stressed that the Honduran government and its people have always admired Vietnam's struggle for national defence in the past and efforts for national construction now and said he plans to visit Vietnam in the near future to see with his own eyes the achievements the country has made during national development.
Tung conveyed President Truong Tan Sang's invitation to the Honduran President to visit Vietnam and underlined that Vietnam has always attached a great deal of importance to strengthening its relationship with Honduras.
He said he hopes that the Honduran President's forthcoming visit will create a political momentum to step up bilateral ties between both countries, especially in trade and industry, agro-forestry-aquatic products, manufacturing, science and technology and culture.
The visit will also help promote cooperation between the two countries within international organisations and at multi-lateral forums that both are signatories to, added Tung.
VN, EU open new era
Participants at a seminar in Ha Noi yesterday morning, Oct 23, agreed that the signing of a partnership and co-operation agreement (PCA) between Viet Nam and the European Union last June would open the door to a multitude of ties between the two sides.
Deputy Minister of Foreign Affairs Bui Thanh Son said that the agreement marked an important development.
"I believe the agreement will enhance relations between the two sides in future in all aspects of politics, economy and co-operation," Son said, adding that the PCA would boost co-operation in addressing global issues.
These included protecting international peace and security, counter terrorism, organised crime, money laundering and coping with climate change.
Head of the EU delegation to Viet Nam, Franz Jessen, said that the new PCA demonstrated the commitment of the EU to forge an upgraded, broader and more mature partnership with Viet Nam, a partner willing to take on increasing responsibilities on the world scene – and an active and central actor in ASEAN.
"I hope this agreement will soon be complemented by an ambitious EU-Viet Nam Free Trade Agreement," he said. "The first round of negotiations were recently held in Ha Noi."
Head of the Vietnamese Foreign Ministry's EU Affairs Department, Tran Ngoc An, said that in 2005, Viet Nam was the first country in Southeast Asia to have a strategic plan for relations with the EU.
"The PCA, however, will have to go through a separate rectification process by the 27 EU member states and the European Parliament. The process can last for a couple of years," An said.
People's Supreme Procuracy awarded Laos' Order
The People's Supreme Procuracy of Vietnam on October 23 was presented with the Issara (Freedom) Order, second class, of the Lao Government.
The Order was handed over by Khamsan Souvong, Head of the Lao People's Supreme Procuracy, who also presented the Freedom Order, third class to the former Head of the People's Supreme Procuracy, Tran Quoc Vuong, and the current Head, Nguyen Hoa Binh.
On the occasion, two Friendship Orders of Laos were awarded to the judicial procuracy training school and Tran Cong Phan, Deputy Head of the People's Supreme Procuracy.
The Order presentation was made at a time when the two countries are celebrating the Vietnam-Laos Friendship Year, the 50th anniversary of diplomatic ties and the 35th anniversary of the signing of the Friendship and Cooperation Treaty.
Speaking at the ceremony, Nguyen Hoa Binh said that the traditional friendship between Vietnam and Laos, which has been continuously reinforced by generations of the two countries' leaders, is one of crucial factors to ensure success of each country's national construction and defence.
The two procuracy agencies will continue coordinating in implementing effectively the signed cooperation minutes, and exchanging delegations at all levels to share experience in the field, Binh added.
Vietnam, Laos push up environment cooperation
The Vietnamese Ministry of Natural Resources and Environment will work with the Lao counterpart to make their cooperative projects fruitful.
Minister of Natural Resources and Environment Nguyen Minh Quang made the affirmation at the talks with his Lao counterpart Noulin Sinbandith during his working visit to Laos from October 21 to 23.
Regarding hydropower projects to be built on the main streams of the Mekong River , Minh elaborated Vietnam 's viewpoint that hydroelectric plants will be built only after comprehensive scientific research on environmental impacts of these projects is made.
In line with that, Vietnam proposed that Laos should work with other members of the Mekong River Commission to jointly carry out the research, Minh added.
For his part, Minister Noulin Sinbandith expressed thanks to the Vietnamese Party, government and people for wholehearted support in the past time and said he believes that the two ministries will yield more effective cooperation.
The two ministers also exchanged views on future cooperation plans, especially the sharing of information and experience in environment protection, effective management and use of water resources of the Mekong River for the sake of the two peoples.
During the visit, the Vietnamese officials were received by Lao Prime Minister Thongsing Thammavong.
They had a working session with Laos' National Mekong Committee.
Localities work for peaceful VN-Cambodia border
Vietnam's south-western provinces pledged to closely work with Cambodia's localities and branches to fight trans-national crimes to protect security and maintain stability and social order in each country as part of effort to step up bilateral wide-ranging cooperation.
The pledge was made at a working session between a delegation from the Steering Committee for the South-western Region and a delegation from the Cambodian People's Party (CPP) in Phnom Penh on October 23.
Senior Lieutenant General Tran Phi Ho, Deputy Head of the Steering Committee for the South-western Region and Sai Chum, Head of the Standing Board of the CPP Central Committee shared their delight at the traditional friendship and cooperation between Vietnam and Cambodia.
They said they are pleased to see local people residing in border areas uniting to ensure security and preserve peace and social order in the common border to facilitate mutual development.
At the session, general Ho extended profound sympathy to Cambodian people and CPP members over the death of King Father Norodom Sihanouk.
He thanked the CPP and Cambodian people for their support and assistance to the search and repatriation of Vietnamese volunteer soldiers killed during the wartime in Cambodia, especially to the past struggle to gain independence and protect territorial integrity and the current national construction and development by south-western provinces' people.
Sai Chum showed his gratitude to leaders and people of Vietnam for coming up with immense, valuable, prompt and effective assistance to Cambodian people when they managed to escape from the Pol Pot genocidal regime and rebuild and defend their country.
The CPP official affirmed that the Vietnamese State and people have played a sizeable part in Cambodia's today achievements.
During the working visit, the Vietnamese officials will have working sessions with several Cambodian ministries, sectors and localities.
VNN/VOV/VNS/VNA