VietNamNet Bridge – The Minh Triet (Wisdom) Center, under the Union of Vietnam Scientific and Technological Associations, has launched the "Wisdom to master the East Sea" program.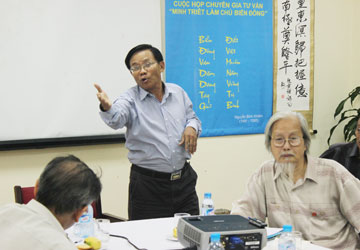 Prof. Nguyen Khac Mai (standing), director of the Minh Triet Center.
The center's director, Prof. Nguyen Khac Mai, former chief of the Research Board of the Central Public Relations Committee, told the HCM City Law Newspaper that "Wisdom to master the East Sea" is the conception of being the master based on the consciousness of the age: defending our sovereignty and respect the sovereignty of other countries, to be friendly, peaceful, sharing responsibility and interests, looking forwards to civilized standards in international relations.
Prof. Mai said that the program was launched based on the fact that the East Sea disputes have become a common concern of the public, at home and abroad. Especially in the last three years, when China has unceasingly carried out escalation moves in the East Sea.
He said: "In that context, we have searched for historical documents to see what our ancestors talked about marine and island sovereignty. I'm really moved to read a poem entitled "Cu Ngao" by Nguyen Binh Khiem, dated back to over 500 years ago. I would like to quote two lines – "Bien Dong van dam dang tay giu, Dat Viet muon nam vung tri binh (defending sovereignty over the East Sea, Vietnam will be peaceful and prosperous forever)."
Mai said that this program would stir up a movement on researching the East Sea, in every aspect, with the contribution of Vietnamese at home and overseas.
"The East Sea research includes three directions: research of maritime and island sovereignty, developing maritime and island economy and research of maritime and island culture and science. We will organize seminars to assess the current research works on these directions," Prof. Mai added.
He said that the program would group up research works on the East Sea that have been published to honor the best works by awards. It will also combine with social associations and university to support the youth's research works on the sea and islands of Vietnam.
According to Prof. Mai, many domestic and overseas scholars and experts have contributed opinions to the program. "Many of them promised to translate documents and research works of Vietnam's maritime and island sovereignty to publish on foreign newspapers and journals," he said.
"We believe that this program would be supported widely," he said.
Compiled by M. Lan