VietNamNet Bridge – Mr. Nguyen Van Tho, Vietnamese Ambassador to China, said that the East Sea dispute is an objectively historical matter that Vietnam must face and seek solutions for it.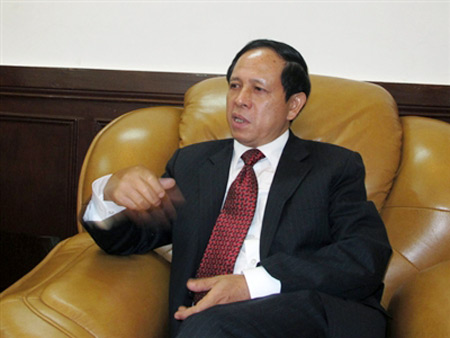 How would diplomatic activities be implemented to adapt to worrying developments in the East Sea?

High-ranking leaders of the two countries have reached common awareness on important issues, including the construction of comprehensive strategic cooperative relations. Promoting friendship and comprehensive cooperative ties with China is the priority in the foreign policy of the Party and the State of Vietnam. This is the consistent, long-term policy of Vietnam.

The relationships between Vietnam and China have made positive moves in recent years. Some matters left by history have been solved, but the East Sea dispute is still sensitive and complicated.

This is an objective matter of history that we have to face and seek solutions to gradually deal with it.
High-ranking leaders of the two countries have reached common awareness on this issue. The Agreement on basic principles to solve marine-related matters was signed during Party Secretary General Nguyen Phu Trong's visit to China last October.

Based on the agreement, the two sides have organized negotiations on fixing the boundary of disputed areas and cooperation for mutual development in these areas. However, this is a complicated and difficult process.

The responsibility of the Vietnamese Embassy in China is contributing to maintaining and promoting the friendship and comprehensive cooperation relations between the two countries; promoting the serious implementation of agreements between the two countries' high-ranking officials; solving matters left by history; creating peaceful environment for the country's development and defending the country's sovereignty and territorial integrity.

But China has recently made statements or taken actions that breached Vietnam's sovereignty. What solutions are carried out to make Chinese people and the world understand that Hoang Sa (Paracel) and Truong Sa (Spratly) Archipelagos belong to Vietnam?

Vietnam has legal and historical evidences to confirm that Hoang Sa and Truong Sa belong to Vietnam. Our consistent policy is solving the East Sea dispute through peaceful negotiation, based on friendship, equality, mutual-respect and international laws, especially the UN Convention on the Law of the Sea 1982 (UNCLOS) and the Declaration of Conducts of the Parties in the East Sea (DOC).

I hope that negative voices that are not helpful for the friendship ties between Vietnam and China and excite national feud on some Chinese newspapers and websites are not the official voice of the Party, the Government and the people of China.

I've told Chinese officials about this and also told them that false information only makes the situation more complicated. This is not the responsibility of only diplomats but the responsibility of each citizen. Vietnamese newspapers need to join a hand to make Chinese people to have objective understanding about the issue and to urge the world to support Vietnam's reason.

China recently offered tenders for oil blocks in Vietnam's waters, arrested Vietnamese fishermen who caught fish in Vietnam's waters, etc. What do we have to do, in your opinion?

We have expressed our point of view about China's recent unilateral violations of Vietnam's sovereignty. I would like to confirm that Vietnam's foreign policy is consistent in settling disputes in the East Sea by peaceful measures, based on international law.

At this moment, we need to highly raise the flag of justice, peace and cooperation, because this is the great trend of the region and the world, which nobody can resist.

We have to be patient and have to protect the right things to the bitter end. By objective, honest and reasonable, the media is a very important channel to protect the reason and the right.

Could you tell us something about the community of Vietnamese students in China in the current situation?

There are more than 13,000 Vietnamese students in China. Vietnamese young people in China understand the reason and they do not agree with wrong information about Vietnam, which can harm the traditional friendship relations between Vietnam and China. However, they have tried to be calm and still focused on studies.

I hope that Vietnamese young people in China will patiently explain the real situation and the reason to their Chinese friends, to make them understand that Vietnam is a peace-loving and reason respecting nation. I believe that each Vietnamese student in China have been and will be an ambassador of friendship.

Tien Phong